Great Horned Owl (Bubo virginianus) (1) – Reported Feb 01, 2020 17:19 by Matthew Tobey – Peterborough Municipal Airport–pond, Peterborough, Ontario – Map: http://maps.google.com/?ie=UTF8&t=p&z=13&q=44.2376419,-78.3566642&ll=44.2376419,-78.3566642 – Checklist: https://ebird.org/view/checklist/S64024864 – Comments: "Calling from woodlot between Moncrief Line and the airport."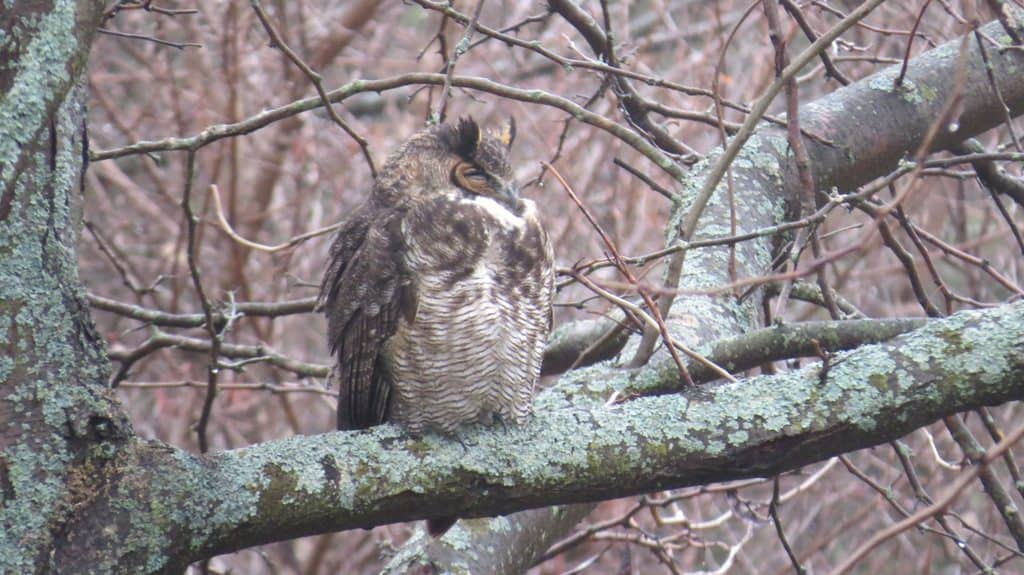 Red Crossbill (Loxia curvirostra) (10) – Reported Feb 02, 2020 08:15 by Ben Taylor – Kawartha Nordic Ski Club trails, Peterborough, Ontario – Map: http://maps.google.com/?ie=UTF8&t=p&z=13&q=44.6201046,-78.1319386&ll=44.6201046,-78.1319386 – Checklist: https://ebird.org/view/checklist/S64058759 – Comments: "Heard at least 10 crossbill off in the tree tops near the Adam Scott and Fisher intersection."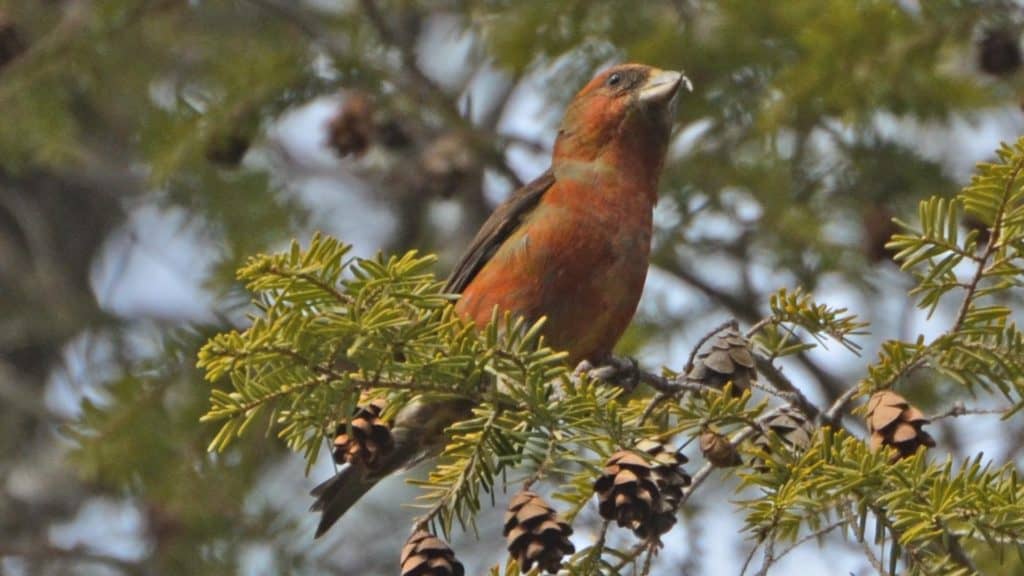 Iceland Gull (Thayer's) (Larus glaucoides thayeri) (1) – Reported Feb 01, 2020 10:11 by Mike V.A. Burrell – Peterborough–Little Lake (Mark Street Boat Launch/Rogers Cove), Peterborough, Ontario – Map: http://maps.google.com/?ie=UTF8&t=p&z=13&q=44.2999852,-78.3079138&ll=44.2999852,-78.3079138 – Checklist: https://ebird.org/view/checklist/S64000020 – Comments: "Adult basic. Dark eye, dark primary tips."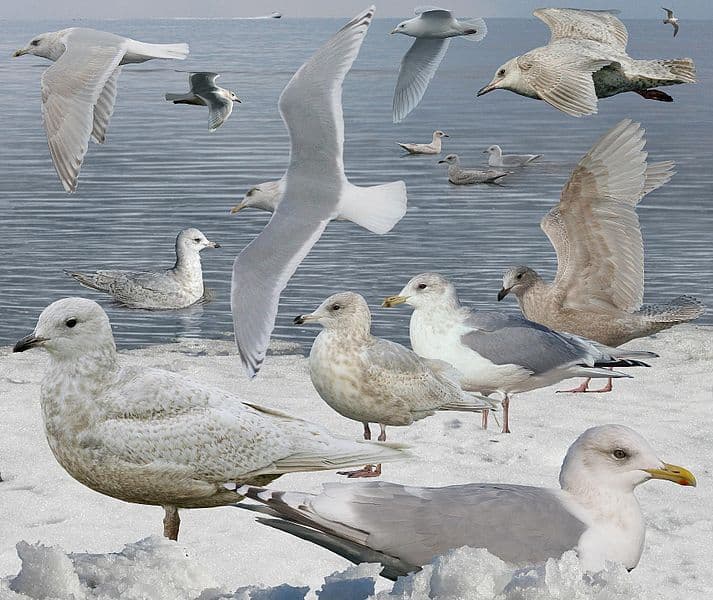 Barrow's Goldeneye (Bucephala islandica) (1) – Reported Feb 03, 2020 09:44 by Janet Kelly – Peterborough–Millennium Park, Peterborough, Ontario – Map: http://maps.google.com/?ie=UTF8&t=p&z=13&q=44.3028834,-78.31688&ll=44.3028834,-78.31688 – Checklist: https://ebird.org/checklist/S64090691 – Media: 3 Photos – Comments: "Continuing female foraging with group of COGO on far side of river at tip of island across from Peterborough and District Labour Council memorial sculpture. Flatter head, orangy bill. Head also appears darker than COGOs from a distance. Photos taken."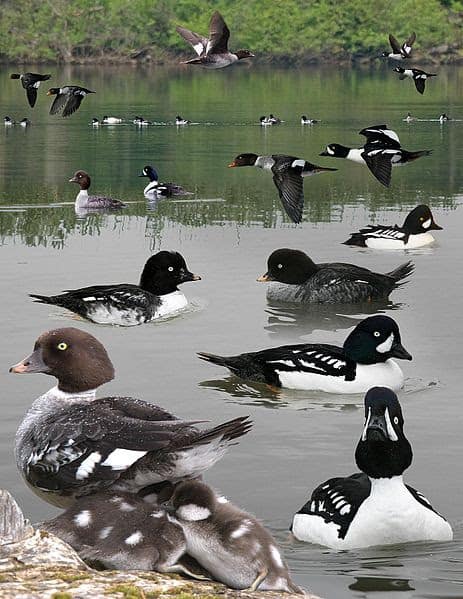 Snowshoeing at Kawartha Nordic Ski Club
Clement temperatures and excellent snow conditions made for a very successful, first-ever Peterborough Field Naturalists Snowshoe Nature Walk on February 2 at the Kawartha Nordic Ski Trails near Haultain. An impressive 32 people took part, and everyone seemed to love the experience. Led by Drew Monkman, Don McLeod, and Susan Sauvé, the participants saw a good selection of different mammal tracks, birds, lichens, and fungi, as well as a wide selection of trees and shrubs. One of the highlights was watching Snow Fleas catapult themselves over the snow surface. They were first spotted thanks to the eagle eyes of a young girl who took part. Shortly afterwards, a tiny spider was also observed walking over the snow.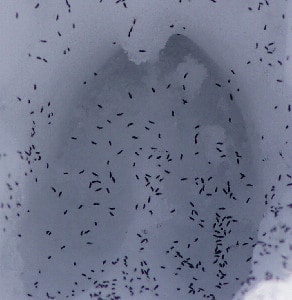 It was also exciting to see tracks of both a Fisher and a Moose. Don also drew our attention to the tracks of an American Mink, a Snowshoe Hare, a Beaver, an Eastern Coyote, and numerous White-tailed Deer and Red Squirrels. Although the bird list was rather short, it was interesting to watch as Black-capped Chickadees and Red-breasted Nuthatches continually flew in and out of the crowns of Balsam Fir where they were presumably taking seeds from the cones. Pishing also brought in a couple of Golden-crowned Kinglets.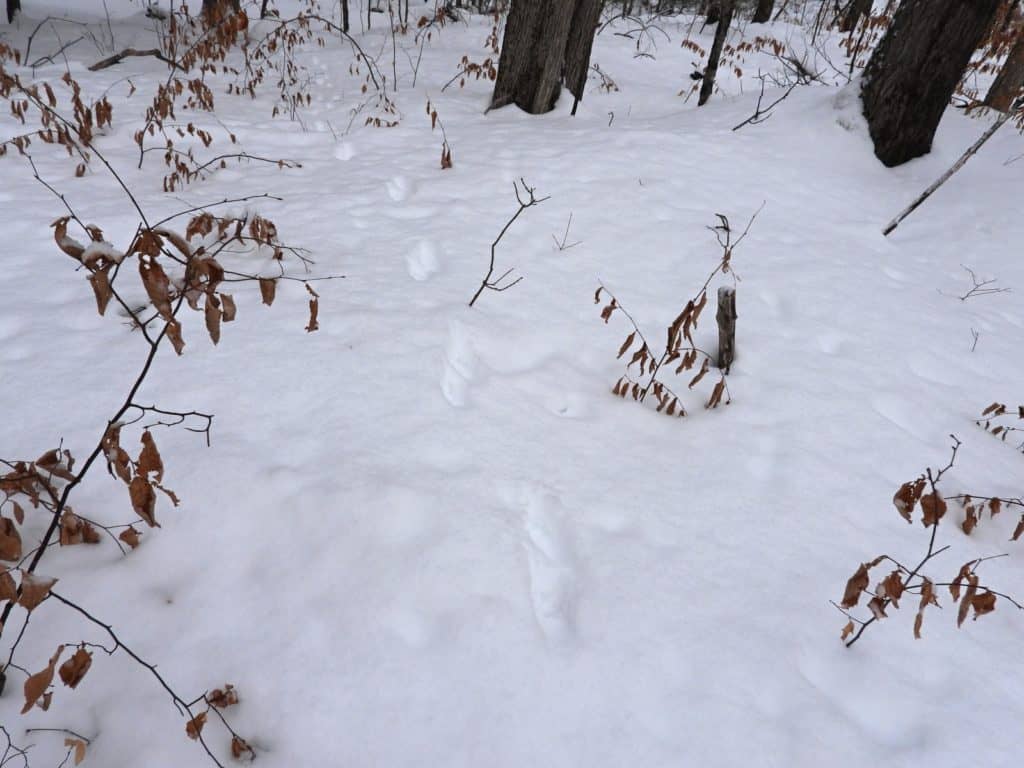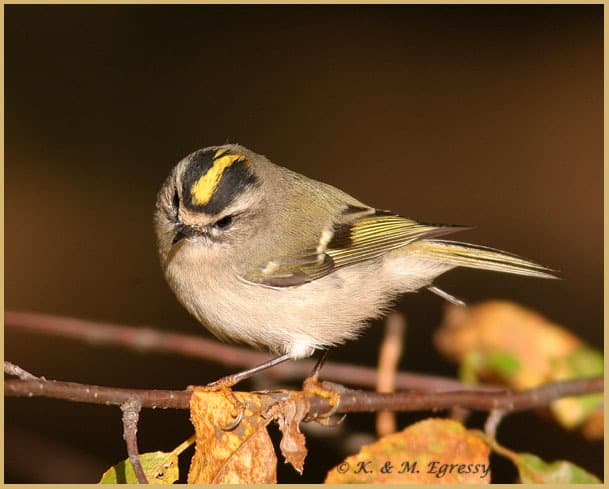 We also spent time going through the identification process to sort out the different conifers along the trail, which included Balsam Fir, White Spruce, Eastern White Cedar, White Pine, Eastern Hemlock, and Tamarack. One of the hemlocks was riddled with thousands of Yellow-bellied Sapsucker drillings. We also saw crustose, foliose, and fruticose lichens growing on the trees, along with different bracket fungi.
At the end of the outing, a number of us gathered in the chalet for some hot chocolate, a bit of lunch, and a recap of what we had seen along the trail. We want to thank the Kawartha Nordic Ski Club for helping to make this event possible. I have a feeling that snowshoeing at Kawartha Nordic will become an annual PFN event.
Red Crossbill (Loxia curvirostra) (4) – Reported Feb 03, 2020 10:16 by Matthew Tobey – Petroglyphs Provincial Park, Peterborough, Ontario – Map: http://maps.google.com/?ie=UTF8&t=p&z=13&q=44.6029962,-78.0395794&ll=44.6029962,-78.0395794 – Checklist: https://ebird.org/checklist/S64100751 – Media: 5 Photos – Comments: "1 pair and 2 singles in different locations along west side main road."
I saw an Eastern Coyote on February 4, 2020 at 7:00pm at the corner of Benson Avenue and Aberdeen Street in Peterborough. Also, on February 1, there was a coyote in the parking lot of Little Caesar's on Chemong Road at 7:00pm. Matthew Gaskell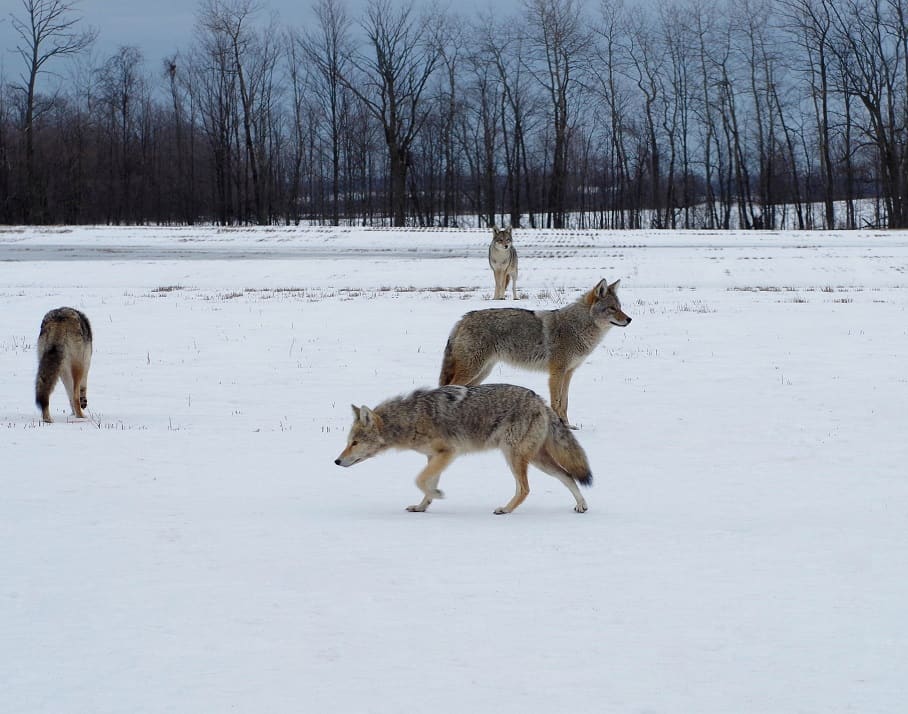 Eastern Screech-Owl (Megascops asio) (1) – Reported Feb 05, 2020 08:05 by Matthew Garvin – Matt's yard, Peterborough, Ontario – Map: http://maps.google.com/?ie=UTF8&t=p&z=13&q=44.316639,-78.3090723&ll=44.316639,-78.3090723 – Checklist: https://ebird.org/checklist/S64145540 – Media: 2 Photos – Comments: "Roosting in pines getting mobbed by everything. Grey phase."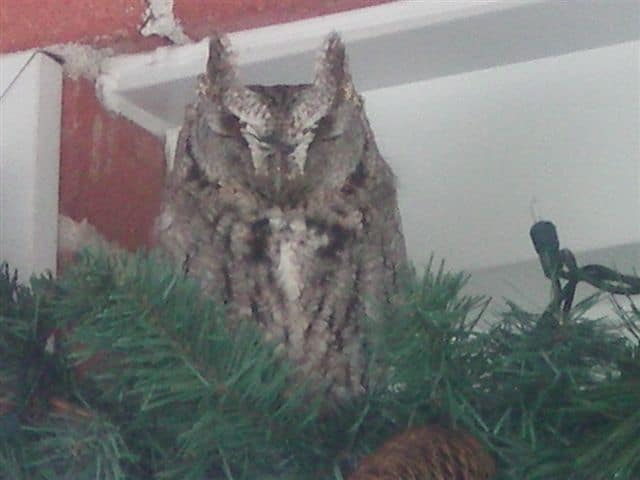 Yesterday, February 4, I photographed a pair of Barred Owls near Young's Point, and on the River Road between Peterborough and Lakefield, there were Great Black-Backed Gulls and male & female Red Crossbills.
Carl Welbourn, Kawartha Camera Club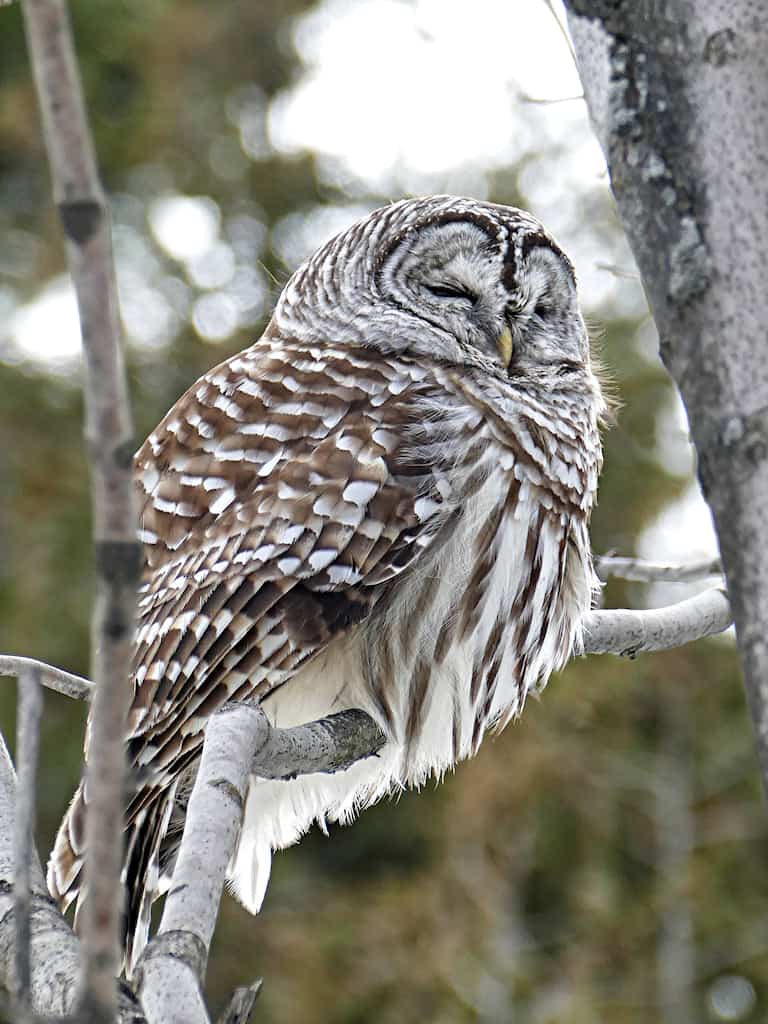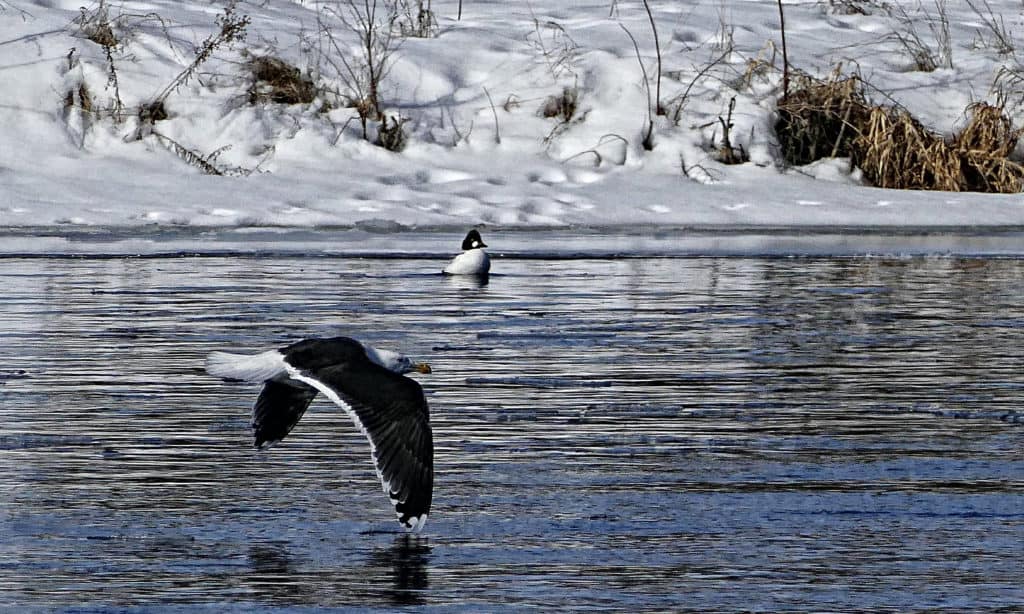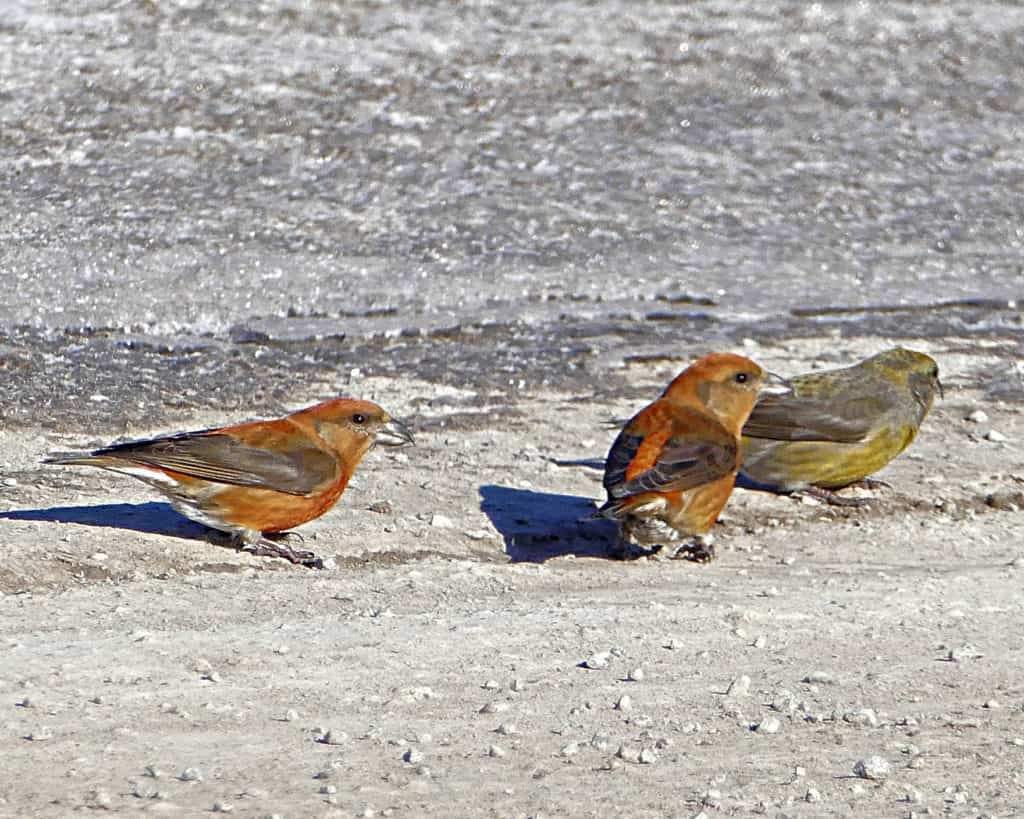 Two male and one female Red Crossbills – Carl Welbourn
I have a Red-bellied Woodpecker coming regularly to my feeder on Northey's Bay Road on the north shore of Stony Lake. It has been coming since at least December. A flock of Wild Turkeys are also regular visitors. Dennis Johnson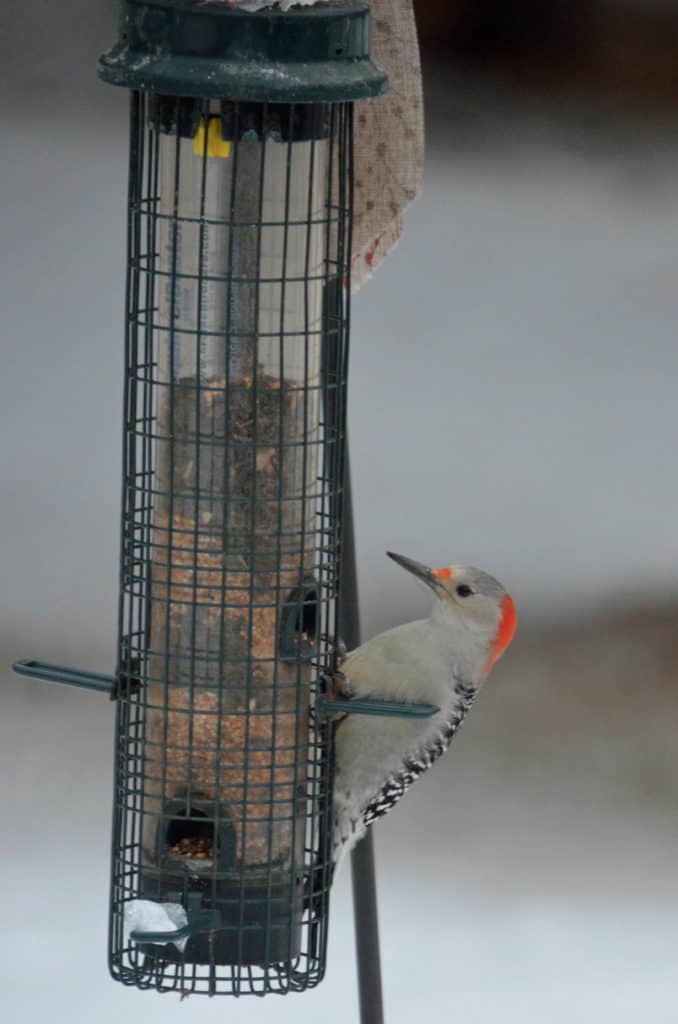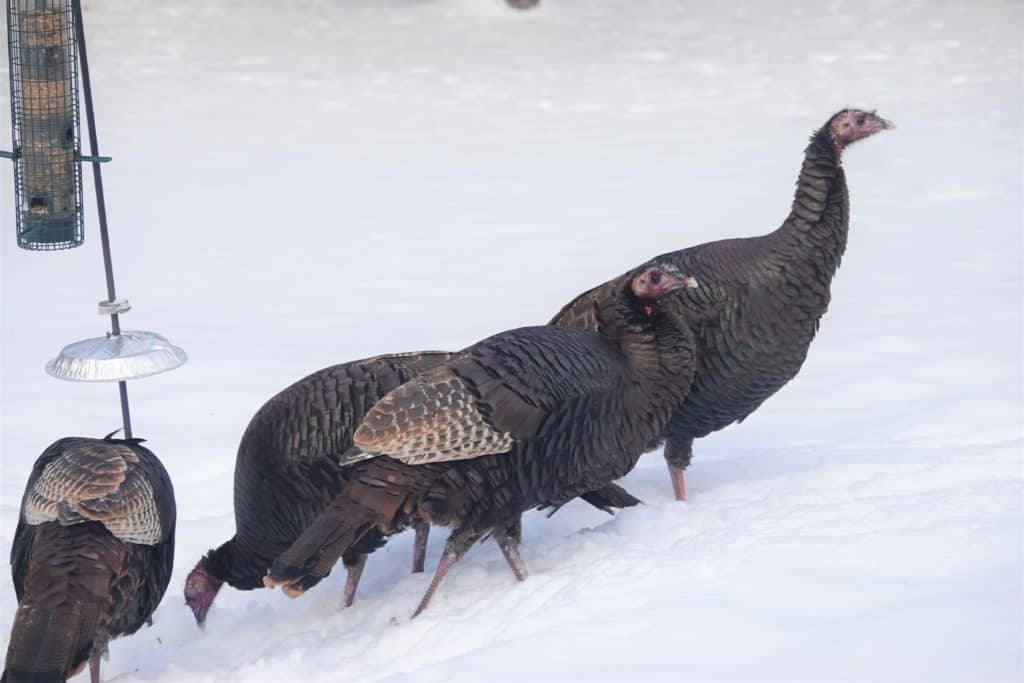 We have had 4 Trumpeter Swans (2 adults and 2 immatures) for over a week, around the large marsh in Lake Katchewanooka. Calling and bobbing their necks in unison. Near the intersection of Young's Point Rd and Miller Road. Sheryl Smith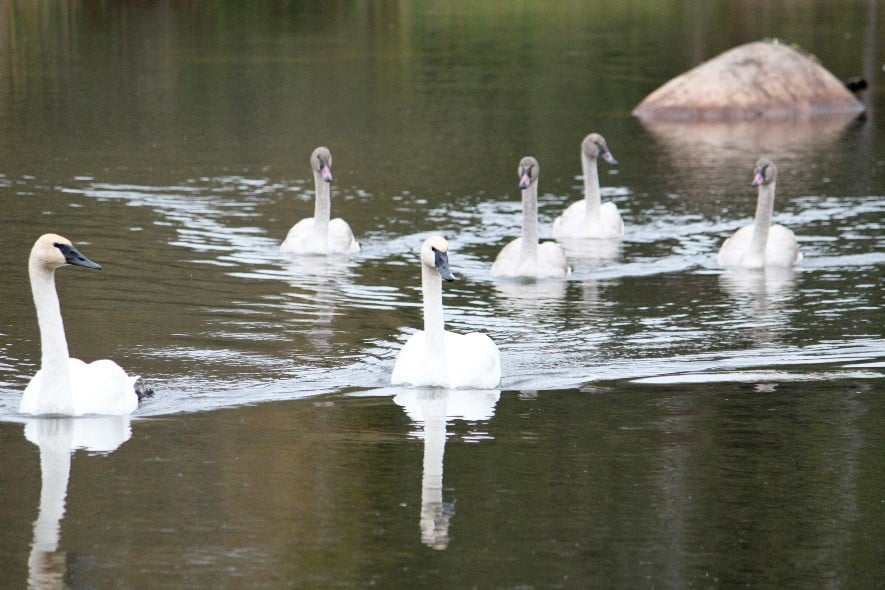 Canvasback (Aythya valisineria) (1)
– Reported Feb 11, 2020 14:40 by Dave Milsom
– Katchewanooka Lake–end of Stenner Rd, Peterborough, Ontario
– Map: http://maps.google.com/?ie=UTF8&t=p&z=13&q=44.4502641,-78.262825&ll=44.4502641,-78.262825
– Checklist: https://ebird.org/checklist/S64371009
– Media: 2 Photos
– Comments: "continuing female swimming along edge of ice"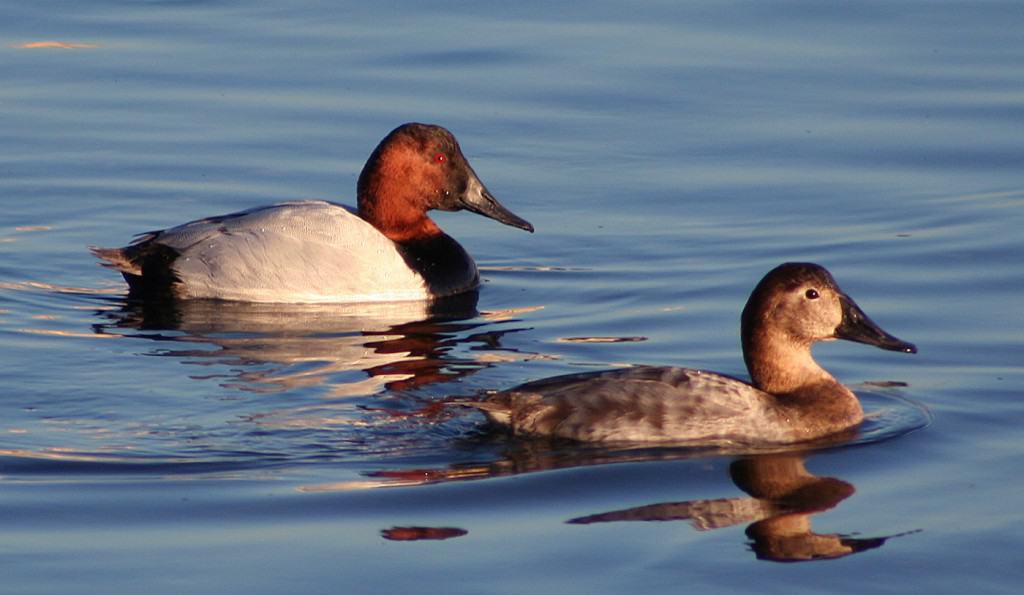 Northern Goshawk (Accipiter gentilis) (1) – Reported Feb 12, 2020 15:34 by Janet Kelly – 653 County Road 4, Peterborough, Ontario, CA (44.365, -78.234), Peterborough, Ontario – Map: http://maps.google.com/?ie=UTF8&t=p&z=13&q=44.365449,-78.234459&ll=44.365449,-78.234459 – Checklist: https://ebird.org/checklist/S64403521 – Comments: "Adult. Large, robust accipiter, all grey below. Flying east to west over field, then veered south over road. Pulled car over and got good looks."