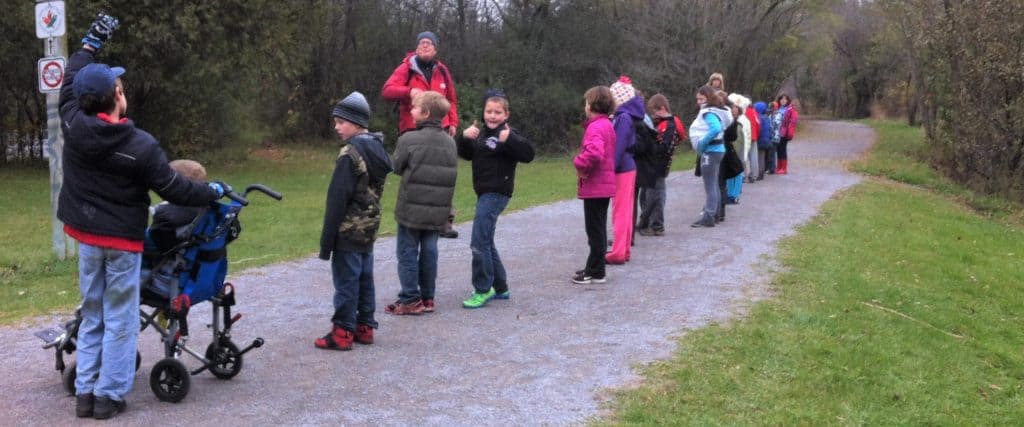 I would be delighted to visit your school, community group, club or other organization and either give a PowerPoint presentation or lead a walk at the destination of your choice. Please contact me at dmonkman1@cogeco.ca or 705-743-0868 to discuss my fee and available dates.
A Year in Nature in the Kawarthas
This presentation is based on my books "Nature's Year in the Kawarthas" (2002) and "Nature's Year in Central and Eastern Ontario" (2012). I discuss natural events that take place each month of the year. They include happenings in birds, mammals, reptiles, amphibians, fish, invertebrates, plants, fungi, weather and the night sky. All of these are illustrated with my own photographs as well as those of other local photographers. A question and answer period follows the program. I can also bring artifacts such as an insect collection, wildflowers in bloom, invasive plants, etc. depending on the interests of the group. The presentation usually lasts about 45 minutes but can be tailored to your needs. Copies of "Nature's Year" will be available for purchase.
Climate Change in the Kawarthas
This presentation explains how climate change is already affecting wildlife in the Kawarthas and central Ontario. It covers themes such as population changes, arrival of new species, changes in the dates of events (e.g., flowering, bird arrival), extreme weather events as well as what changes we can expect in the future. I also touch on why climate change is so difficult for humans to react to. A question and answer session follows the presentation. N.B. An earlier version of the presentation can be viewed on this website.
Connecting Children to Nature
This presentation is largely based on our award-winning "The Big Book of Nature Activities: A Year-round Guide to Outdoor Learning" (2016) which I co-authored with Jacob Rodenburg, executive director of Camp Kawartha near Peterborough. I discuss why it is so important to connect kids (and adults!) to nature and propose strategies for facilitating this connection. I also explain how the book is organized, some basic nature skills and give examples of activities for each season of the year. I lead the group through some of these activities. This presentation is of particular interest to teachers, youth leaders, parents and grandparents. A question and answer session follows the presentation. Books are available for purchase.
Walks
On a typical one or two hour walk, I provide an initial overview of what's happening in nature at this time of year. We then head out to see what we can find. We stop to look at plants, insects, birds and anything else that catches our attention. I am usually able to bring in birds for closer views by using pishing. There is ample time to ask questions, take pictures and share your own experiences. Some of my favourite destinations include Baxter Creek Trail in Millbrook, Camp Kawartha, the Trent University Nature Areas and Kawartha Land Trust properties such as the Stony Lake Trails. I would also be happy to lead a walk at the destination of your choice. You may, for example, be interested in walking around your own property to learn more about what species are present.