Changing Seasons in Central and Eastern Ontario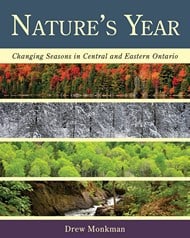 Nature's Year is an almanac of key events in nature occurring in Central and Eastern Ontario, a region that extends from the Bruce Peninsula and Georgian Bay in the west to Ottawa and Cornwall in the east. The book is a chronicle of the passing seasons designed to inform cottagers, gardeners, photographers, suburban backyard birders, and nature enthusiasts alike as to what events in nature to expect each month of the year.
Whatever your interest may be — birds, mammals, amphibians, reptiles, fish, invertebrates, plants, fungi, weather, or the night sky — just turn to a given month and you'll find a list of what's happening, often right in your own backyard. This book will also provide a reassuring measure of order and predictability to nature and help the reader become more attentive to and appreciative of the many wonders of the natural world that surround us in this exceptional region of Ontario.
Supplementary Resources
Book Details
Author: Drew Monkman
Publisher: Dundurn
Format: Paperback, 336 pages
ISBN: 9781459701830
Published: April 2012
Purchase from: Dundurn Publishers, Amazon.ca, Chapters Indigo
Reviews
Embracing the seasons with all their distinctive offerings, Monkman explains to the reader through photo diagrams and maps the greatness that can be found in central and eastern Ontario.

– The Echo Haliburton County