"Welcoming the birds of May"
The time that birders have waited for since the lonely, frigid days of winter is now upon us. With May comes the peak of spring migration as long‑distance migrants pour into the Kawarthas from the neo‑tropics ‑ Mexico, Central America, the West Indies and South America. In Peterborough County alone, a day of birding in mid-May can produce over 100 different species. Not only do their flamboyant colours symbolize the tropical habitats from where they've come, but their vigorous singing heralds that high spring is finally here.
An elegant synchronicity of events is happening before our eyes. As the green canopy of leaves develops overhead, countless caterpillars emerge to feast on the verdant bounty laid out before them. And, right on cue, countless birds arrive to regale themselves of this insect banquet. While some species remain to nest in the Kawarthas, others are only passing through on their northward journey and won't be seen again until their flight south in the fall.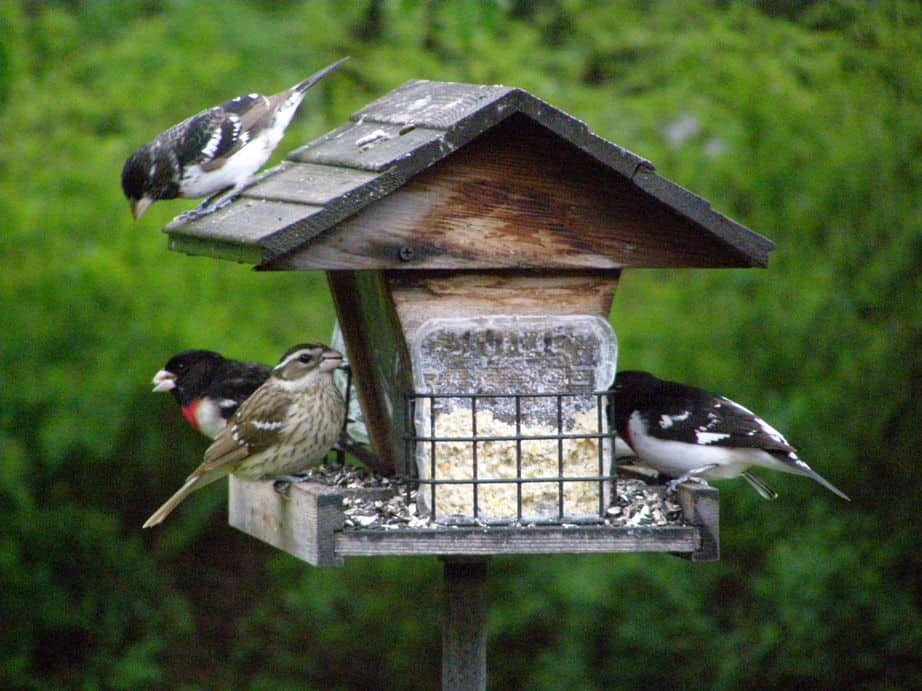 You may wonder why an eight inch, two-ounce bird like a rose-breasted grosbeak would risk a perilous 4000 km journey from Costa Rica all the way to Kawarthas just to nest? Obviously, there must be compelling reasons. The short answer is that they are able to raise more young than had they remained in the tropics. Protein‑rich insects are abundant during the Canadian spring and summer; there is a much larger geographical area over which to spread; and the long days allow birds to feed their young more than four hours longer than had they remained in the south.
Favorable winds
Flying at an elevation of about 1000 metres, most songbirds migrate at night, which allows them to see the stars for navigation purposes and to avoid predators such as hawks. It is quite common to hear their contact calls as they pass overhead in the inky darkness. Songbirds almost always wait for a tail wind – a wind blowing in the same direction they are headed – before migrating in large numbers. A tail wind allows the birds to expend less energy in flight. In the spring, tail winds are associated with warm fronts advancing from the south or southeast. The key to great May birding is to watch the local forecast for some change in the weather such as a forecast of rain and fog. When a northward-moving warm front collides with a cold front, the warm air ‑ and the birds flying in it ‑ rises over the cold. The air cools, rain develops, and the birds are forced to land in what is called a "fallout"- sometimes right in your own backyard! This means that rainy mornings in May can produce superb birding, especially when the precipitation is light and starts after midnight.
Enjoying the show
May's bounty of birds can be enjoyed right in your own backyard, especially if you have trees and shrubs on your property and provide an offering of sunflower seeds, nectar feeders, and finch blend (millet and nyger seeds) scattered on the ground. May sees the arrival of ruby-throated hummingbirds, Baltimore orioles, rose-breasted grosbeaks, and indigo buntings, all of which will come to feeders. The radiant blue plumage of the male bunting is an unforgettable sight, especially when it's dining only metres from a window. Last year, I even had an oriole coming to my peanut-bits feeder – a nearly unheard-of food for this species, but cool temperatures had meant that insect food was scarce. House wrens, too, are arriving from the tropics now and are easy to attract to nest boxes. In the downtown, watch and listen for swallow-like chimney swifts coursing above George Street like chattering "flying cigars".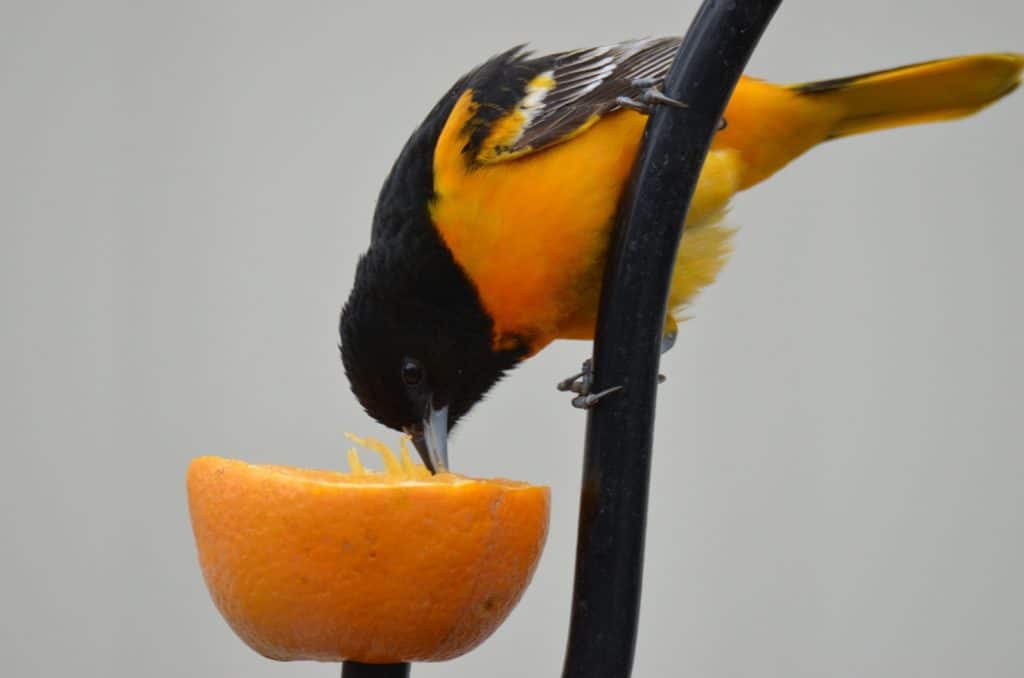 When I'm working in the yard in May, I always keep my eyes and ears open for the 16 or so species of warblers that put in a brief appearance as they head north. Decked out mostly in yellows, oranges, whites and blacks, warblers are the true gems of spring migration. By mid- to late May, I listen for the first the red-eyed vireos, a species that winters in the Amazon Basin. The vireo's repetitive, robin-like song is a common sound from high in mature trees both in Peterborough and throughout the County.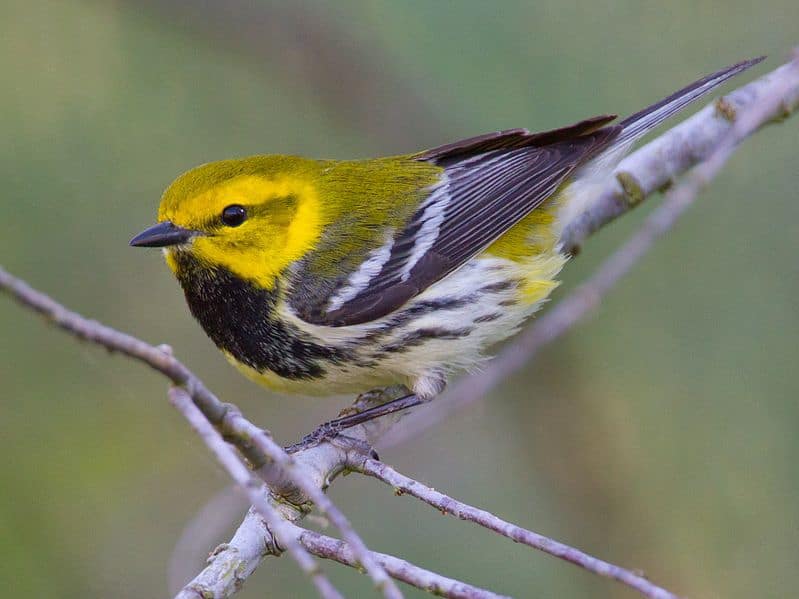 If you want to take in the entire migration spectacle, however, you will need to be out looking and listening almost every day, especially when the weather is damp and mild. Bird activity is usually most intense in the morning between about 6 and 9 a.m. Song is the key to the birds' presence, so it's important to pay attention to the different voices. Warblers, for example, tend to have high-pitched, buzzy songs, while birds like scarlet tanagers, orioles and grosbeaks sing in rich, musical notes. The good news is that many May migrants show up in loose, mixed-species flocks. If you find one variety of warbler, for example, other species are probably nearby as well. Pishing will often bring them in closer for great views.
Where to go
May is the time of year when birders typically flock to migration hotspots like Presqu'ile Provincial Park and Pointe Pelee. This year, however, as COVID-19 has forced the closing of provincial and national parks, most of us will be birding close to home.
Although migrants can turn up anywhere, some habitats and specific locations are consistently better than others. Habitat edges are most productive, including wooded roadsides, the trees along rail-trails, hedgerows, and the shrubby borders of wetlands. Among my favorite places for spring birding – in addition to my own yard, of course! – are the Fairbairn Street Marsh (north end of road on left), Beavermead Park and Ecology Park on Little Lake, Jackson Park, the Rotary-Greenway Trail (especially the Promise Rock section north of the science complex at Trent University), Lynch's Rock Road and Sawer Creek Wetland (northeast of Lakefield), Hubble Road (east of County Road 44, north of Havelock), Charlie Allen Road (off of County Road 507, north of Rockcroft), and Sandy Lake Road (east of County Road 46, just south of Lasswade).
Backyard Challenge
In an effort to make backyard birding more interesting and fun, the Ontario Field Naturalists have organized their first-ever "Birding at Home Challenge". It's an opportunity to discover the rewards of birding from your yard, balcony or even your window! By recording your observations at eBird Canada, you will not only contribute to our understanding of Ontario's birds but also qualify for some amazing prizes. Anyone can take part. Just go to ofo.ca/birdingathome to register. The challenge runs from April 26th to May 31st.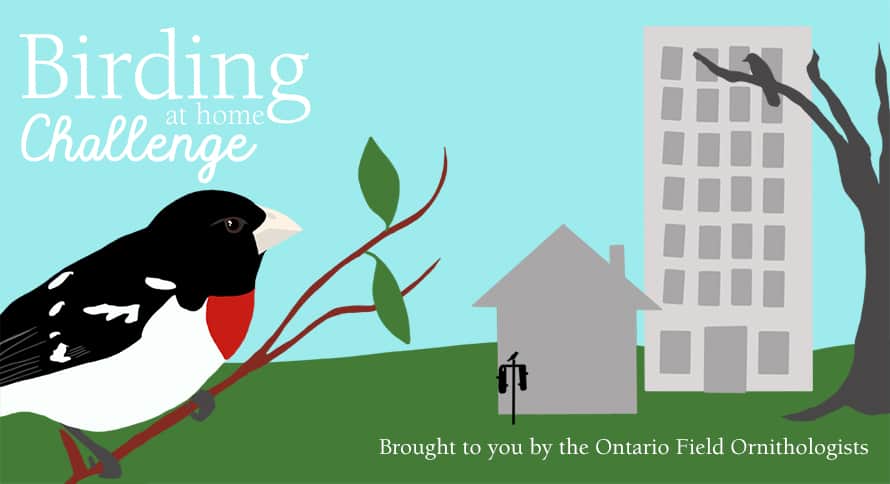 Bird Arrival Schedule
The following timetable indicates when some common birds generally return to the Kawarthas. Note, however, that some species are only passing through on their way to northern nesting grounds. Given the cold weather this year, some species will probably arrive a little later than usual.
Late March – Early April: Double-crested cormorant, great blue heron, turkey vulture, osprey, merlin, killdeer, golden-crowned kinglet, eastern meadowlark, song sparrow,
Mid- to late April: Lesser and greater yellowlegs, Wilson's snipe, yellow-bellied sapsucker, eastern phoebe, barn swallow, tree swallow, purple martin, ruby-crowned kinglet, hermit thrush, yellow-rumped warbler, eastern towhee, savannah sparrow, chipping sparrow, white-throated sparrow, brown-headed cowbird
Early May: Common loon, broad-winged hawk, spotted sandpiper, eastern whip-poor-will, chimney swift, ruby-throated hummingbird, wood thrush, brown thrasher, gray catbird, northern waterthrush, yellow warbler, palm warbler, black-and-white warbler, ovenbird, scarlet tanager, Baltimore oriole, white-crowned sparrow, bobolink, purple finch
Mid-May: eastern kingbird, warbling vireo, veery, cedar waxwing, chestnut-sided warbler, black-throated green warbler, magnolia warbler, American redstart, common yellowthroat, rose-breasted grosbeak, indigo bunting
Late May: Alder flycatcher, red-eyed vireo, mourning warbler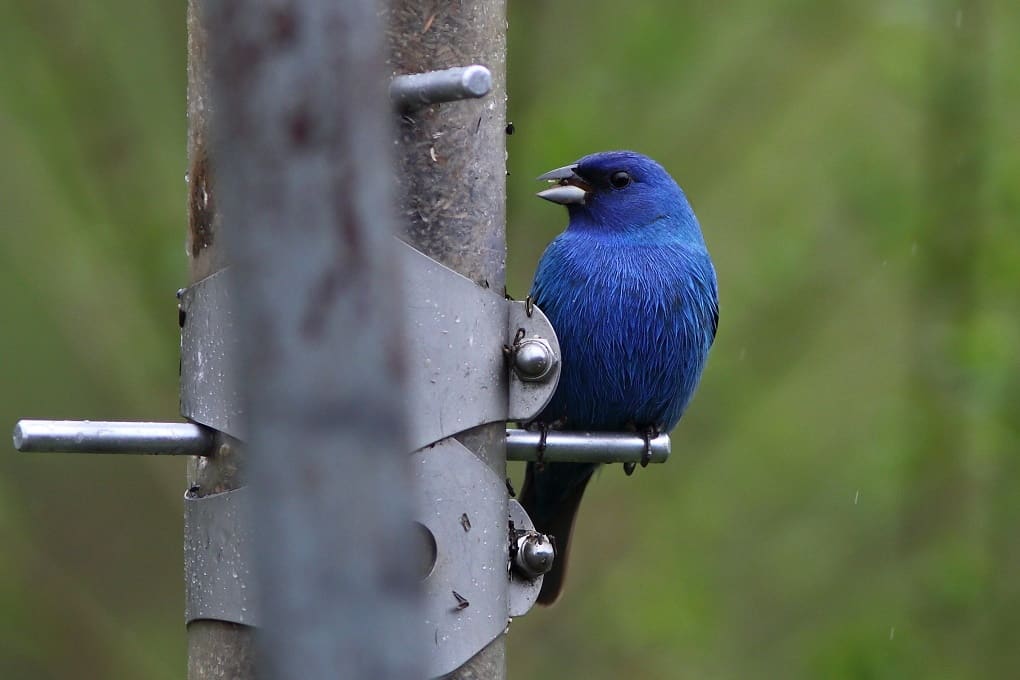 Sidebar: Climate Crisis News
Although climate change is not receiving the same media attention it did only two months ago, the crisis is not going away. Here are some recent news items – some unsettling but others inspiring – that we should all be aware of.
2020 has more than a 70 percent chance of being the warmest year on record.
March 2020 was the planet's second-warmest March since records began in 1880. Because there is no El Nino this year to boost temperatures, the near-record March temperatures are all the more notable.
Numerous scientists have been pointing out recently that many of the root causes of climate change also increase the risk of pandemics. Deforestation, which is the largest cause of habitat loss worldwide, forces animals to migrate and potentially contact other animals or people and share germs.
The world's richest nations must ensure their COVID-19 recovery plans are sustainable and help meet the goals of the Paris climate accord. While some of the world's 20 biggest economies such as Canada, Britain, France and Germany have made statements about doing just that, the biggest emitters such as China and the United States have yet to do so.
As Amsterdam plans for its post-coronavirus recovery, it's not looking at traditional financial measures of recovery. Instead, it will be the first city in the world to officially adopt the "doughnut" model of economics. The model, which is shaped like a doughnut, is avisual framework for sustainable development, which combines the concept of planetary boundaries with the complementary concept of social boundaries.[1] The model regards the performance of an economy by the extent to which the needs of people are met without overshooting Earth's ecological ceiling. Amsterdam wants to answer the question: "How can our city be home to thriving people, in a thriving place, while respecting the well-being of all people and the health of the whole planet?"