N.B. "Home" and "the yard" is between Warsaw and Lakefield.
On December 12th, a Golden-crowned Kinglet flitted about with a few juncos and chickadees in the apple trees in the yard.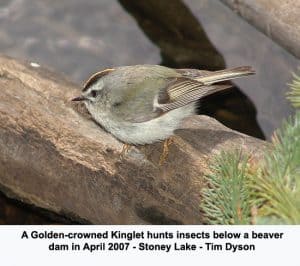 Three White-winged Crossbills and a Brown Creeper were the avian highlights in the yard on December 20th.
After having read reports during recent years about Red-bellied Woodpeckers moving into the area, I recalled that the last ones I likely had seen were way back in 1984 at Rondeau PP on Lake Erie. What a gorgeous bird, and I really wanted to see one. On the morning of December 21st, I had just e-mailed Drew Monkman, thanking him for telling me of a few reliable Red-bellied Woodpeckers in the county, and for providing me with contacts, should I decide to follow up on any of them. Being four days before Christmas, however, I mentioned to Drew that perhaps I would wait until after the holidays, not wanting to interrupt anyone's other plans at this, the most hectic time of year. I suggested to him that "I might just hold off, and see if one comes here to my feeder and pays me a visit instead".
Well, (I later checked the time of my e-mail), less than an hour later, there was a lovely male Red-bellied Woodpecker enjoying the suet just outside my window! How does it get any better than that? Talk about a dose of old time Christmas magic!! The bird was there for a total of four minutes, and then off he went with a glob of suet in his bill. Of course, I waited, but I never saw him again that day. On the morning of the 24th he returned. Again, he was very brief, and left the yard carrying a pinch of suet and headed off in the same direction he had gone three days before. I had not seen him since… until today (January 8th) while writing up this little report. He came just before 2:30pm, and over a period of about fifteen minutes, went back and forth between the suet and an elm tree a short distance away. Finally, I was able to take some photos of his back! Too bad for the heavy overcast, (but I'll try not to complain!)

Also on the 21st of December, a Northern Shrike flew through low between the feeder and the house. Nothing significant really, as I normally enjoy many sightings of the species each year, but I think this was the first I had seen this season. Typically, I notice the first one or two by mid-October.
Same day, at dusk, a large immature Northern Goshawk perched atop one of the many spruces east of the yard. She sat long enough for a few lousy photos to be taken and she then headed north into the Red Pines. A few hours later, one of the property Barred Owls called from the hardwoods. Just single "Boo, boo, boo" calls, for nearly a minute. December 21st 2017… not a bad day of "yard birding" at all!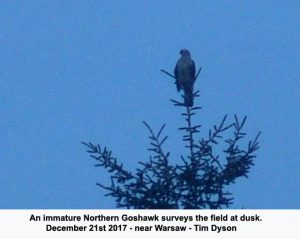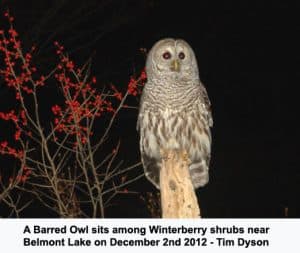 Shortly after seeing the Red-bellied Woodpecker on the 24th, we headed into Peterborough just before noon. While waiting for a red light on Charlotte St. at Aylmer, I looked up at the top of the large building on the s-w corner. I began counting all of the antennas on the roof, and noticed one at the east end had a preening adult Peregrine perched on top. We made three left turns so we could come back around and have a look at the back of the bird. I had been in town many times over the past few months, and now, had finally seen Peterborough's infamous falcon.
On Christmas morning, I watched the feeder from bed. New there that morning was an American Tree Sparrow, (finally), a House Sparrow, (quite a rarity here now), and a leucistic Dark-eyed Junco with uneven whitish areas of feathers on its face, throat, and sides of its head. The sparrows have only returned once or twice, but the junco is here now almost daily.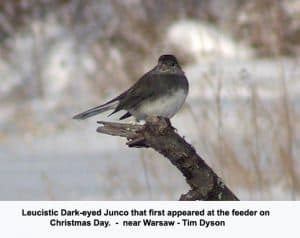 On December 27th I heard a Lapland Longspur uttering its calls as it flew overhead. I pished at it and it came to land briefly and poke around in the snow near the bases of some dead goldenrod stalks by the cedar rail fence for a very short while.
Period eagle sightings:
– December 13th a 1st winter Bald at about 1:30pm and an adult Bald at 1:55pm flying by over the house.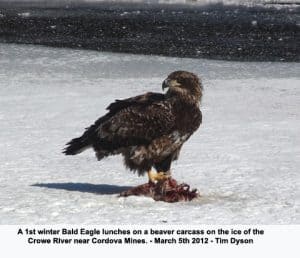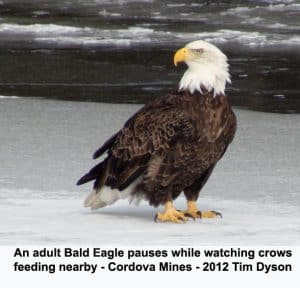 – December 16th a 1st winter Bald in flight over the house.
– December 25th (reported by Ed Heuvel over his house n-w of Norwood) one adult Bald Eagle.
– January 6th (after a dry spell of three weeks for me) finally an adult Bald Eagle soared over my house near Warsaw.
N.B. If any birders are out and about in Lakefield, please check the river north of the bridge for a female Barrow's Goldeneye. I watched a few goldeneye there on January 4th, and one looked suspiciously like a Barrow's. They were actively feeding, however, and I was getting only two-second looks at best in between dives. Then my ride came and I had to go. I've not been back since. It might be worth a search, and I'd love verification as I was not completely sure of what I saw.