Snowy Owl – The Snowy Owls are back in the Lindsay / Little Britain area. The first sighting was two weeks ago. I shot this one yesterday (Nov. 22) on the road between Oakwood & Little Britain.
Carl Welbourn, Kawartha Camera Club
Sightings from Campbellford – This morning, November 22, on the river (frozen), there were 6 River Otters and 4 Bald Eagles. In front of my house, I counted 3 female Pine Grosbeaks. Donald Munro, Campbellford
Sandhill Cranes – At 4 pm this afternoon (November 23), I went out to get my paper. I live in Cavan on Larmer Line. A flock of 50-60 Sandhill Cranes were flying a few hundred feet up coming from the southeast down from Millbrook. They flew over my house and headed in a northwest direction in a V formation. Very distinct call. I took a pic of a few of the birds near our sanitation station in May 2015,  but was surprised to hear them first then spotted them coming right overhead. I would have thought they may have headed south by now, not heading north west. Wayne Stovell, Larmer Line, Fraserville
Sightings from Centre Dummer – I've been an avid birder for 40 or more years, originally in Mississauga then for 11 years while living in the Cowichan Valley on Vancouver Island. We've now lived in Centre Dummer for just over five years and I was surprised to see that you mentioned that Evening Grosbeaks were scarce in The Kawarthas. We've had them every late fall and winter at our black oil feeders. As a matter of fact I've seen two flocks of at least 10 to 12 in the last four or five days. Also I log my nature sightings and on Nov 14th while driving my wife to work in Peterborough we saw a small flock of what I believed to be Pine Grosbeaks on County Rd 40 near a stand of tall evergreens. Way to big to be Purple Finches but I couldn't stop and be totally sure. On a few other occasions I've seen flocks of finches but once again I'm driving on County Rd 40, Webster and County Rd 8. All terrific bird sighting areas with the open land and mixed forest areas. I'm actually very surprised to have a pair of Northern Cardinals that come and go since last winter. I know they aren't typically birds of the forest but somehow they've found our feeders though not nearly enough. I've only seen them twice in the last week since last winter. We have some real nice surprises yearly here with Scarlet Tanagers, Eastern Bluebirds and the best was Indigo Buntings once. My Calgarian raised wife was floored at their beauty! Mark Leslie, Centre Dummer
Again this year, there are many Snowy Owls in the Lindsay area, especially between Oakwood and Little Britain. On several occasions, as many as three have been seen in the same field. Carl Welbourn, Kawartha Camera Club
Today, November 29, I had an American Kestrel turn up at my house in Campbellford and was able to get a picture of it eating a vole.  Donald Munro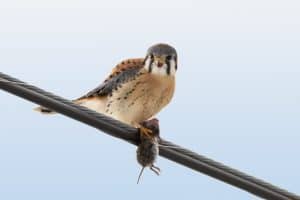 On Friday, November 23 about 8:30 am a small flock of Evening Grosbeaks, maybe 6-8, were flitting about one of the our feeders. It's been at least 8 years since I've seen these magnificent birds. After a few minutes, the group flew next door so I wasn't able to get a really good view, but two returned and remained a while so I was rewarded, glued to my binoculars. I do hope they stay around. Stephenie Armstrong, Warsaw
I had a female Red-bellied Woodpecker and two female Pine Grosbeaks in my yard today. She was eating crab apples. Donald Munro, Campbellford
Iceland Gull (Larus glaucoides) (3)
– Reported Nov 22, 2018 08:00 by Iain Rayner
– Trent Rowing club, Peterborough, Ontario
– Map:
– Checklist: https://ebird.org/view/checklist/S50125087
– Comments: "3 frosty coloured 1st winter birds seen at same time on dump pile. Frosty, pale primaries, same size as HERG, round heads and all dark bills."
Glaucous Gull (Larus hyperboreus) (1)
– Reported Nov 22, 2018 11:45 by Dave Milsom
– Peterborough–Trent University Canal Nature Area, Peterborough, Ontario
– Map:
– Checklist: https://ebird.org/view/checklist/S50128298
– Media: 1 Photo
– Comments: "continuing 1st-year bird"
Jake Lake (Apsley, Peterborough County) Common Loon Survey 2018       (click on image to read)
Northern Saw-whet Owl (Aegolius acadicus) (1)
– Reported Nov 19, 2018 12:20 by Robert Walker Ormston
– Peterborough–Rotary Park & Walkway, Peterborough, Ontario
– Map: http://maps.google.com/?ie=UTF8&t=p&z=13&q=44.3128468,-78.313466&ll=44.3128468,-78.313466
– Checklist: https://ebird.org/view/checklist/S50054347
– Comments: "Most of the birds seen on list seen harassing this owl. Sitting close to the top of a white pine in a stand of white pine. A number of birds were around a fairly small area of the stand making agitated calls. Went to investigate and found owl after about 5 minutes.small pale and light brown owl lacking "ears" about 8to 10 meters up tree"
Peregrine Falcon (Falco peregrinus) (1)
– Reported Nov 18, 2018 14:33 by Donald A. Sutherland
– Peterborough Regional Health Centre, Peterborough CA-ON (44.3001,-78.3470), Peterborough, Ontario
– Map:
– Checklist: https://ebird.org/view/checklist/S50047143
– Comments: "perched atop tower on roof of PRHC"
Iceland Gull (Larus glaucoides) (1)
– Reported Nov 18, 2018 10:25 by Iain Rayner
– Trent Rowing club, Peterborough, Ontario
– Map:
– Checklist: https://ebird.org/view/checklist/S50023765
– Comments: "Continuing 1st year"
Glaucous Gull (Larus hyperboreus) (1)
– Reported Nov 18, 2018 15:35 by Luke Berg
– Otonabee River–Nassau Mills Dam to Lock 22, Peterborough, Ontario
– Map:
– Checklist: https://ebird.org/view/checklist/S50031280
– Comments: "Continuing bird flying up river at the rowing club. Seen earlier around 11:30 as well. "
We've seen a male Red-bellied Woodpecker eating suet from our feeder twice in the last two weeks. We live 2 km south of Trent University. Gorgeous bird! Doug Sadler's book "Our Heritage of Birds – Peterborough County in the Kawarthas" – copyright 1983, lists this bird as a rare occasional visitor, this being the northern edge of its range. I'm wondering how frequently they are being seen here now. Is their range moving north because of climate change? Liz Sine                           N.B. Red-bellied Woodpeckers have actually become rather common in recent years. They are being seen all over the County, even on the Shield and right in Peterborough. I believe we saw six on last year's Christmas Bird Count. Climate change most likely plays a role in the expansion northward of this southern species.
Update on Pat Edward's Baltimore Oriole (see Nov. 7 below) The last we saw of the oriole was Tues., Nov. 13th. We headed up north very early in the morning on the bitter cold day – Wed. the 14th so we didn't put out his feeder as it would have froze. We hung the feeder out again the following day (Nov. 15th) when we were back but we never saw him. It was very cold then as well. We did take a couple of pictures as he would show up early in the morning and if my husband didn't have his feeder out, he would go to the sunflower one about 4′ away which we found very unusual. As soon as Kevin put out the oriole feeder, he would be there right away!! He must have gone to the feeder the last week I would say at least 50X a day.  It was such a treat to see him – he gave us lots of enjoyment and we just hope he survived that bitter weather. Pat Edwards, Ennismore
Northern Mockingbird (Mimus polyglottos) (1)
– Reported Nov 17, 2018 11:05 by Erica Nol
– Douro 5th Line, Peterborough, Ontario
– Map:
– Checklist: https://ebird.org/view/checklist/S49995989
– Comments: "continuing bird; in trees 50 m north of dead end on Douro 5th Line; white wing patches in flight"
Today, November 17, I had 24+ Evening Grosbeaks at feeder 733 Ford Crescent in Cavan. Long time since I saw them last. Great sight. Ken Rumble
I thought you might be interested (I'm watching the birds more closely today, November 16, as they are looking for food as the snow falls heavily) that I just saw a White-crowned Sparrow trying to eat at the sunflower feeder, but he couldn't get a perch. Must be a migrant trying to get to better weather! Jane Bremner, Douro-Dummer

Peregrine Falcon (Falco peregrinus) (1)
– Reported Nov 16, 2018 08:30 by Mike V.A. Burrell
– Peterborough–Robinson Place, Peterborough, Ontario
– Map: http://maps.google.com/?ie=UTF8&t=p&z=13&q=44.3032345,-78.31786&ll=44.3032345,-78.31786
– Checklist: https://ebird.org/view/checklist/S49968782
– Comments: "adult sitting on very top of south tower."
Iceland Gull (Larus glaucoides) (1)
– Reported Nov 14, 2018 09:50 by Ben Taylor
– Trent Rowing Club, Peterborough, Ontario
– Map:
– Checklist: https://ebird.org/view/checklist/S49933377
– Comments: "Continuing bird with tan streaking and small. all-dark bill. Slightly smaller than the GLGU.
Glaucous Gull (Larus hyperboreus) (1)
– Reported Nov 14, 2018 09:50 by Ben Taylor
– Trent Rowing Club, Peterborough, Ontario
– Map:
– Checklist: https://ebird.org/view/checklist/S49933377
– Comments: "Continuing bird. Juvenile with long bi-coloured bill."
On November 15, I had both a male and female Pine Grosbeak in my crab apple tree. A Pileated Woodpecker has also been coming to the tree. Donald Munroe, Campbellford
I can't believe how busy my yard has been the last couple of weeks. Today, November 14, I had 15 species, including a female Pine Grosbeak eating crab apples, a Northern Flicker, my first American Tree Sparrow of the year, a Purple Finch and a late White-throated Sparrow. This is better than summer! In the last two weeks I have had 20 species, including 12+ Common Redpolls on November 9. That same day, I also had 3 Pine Grosbeaks feeding in my crab apple.  I could clearly see the dirty yellow, orange/brown head and rump and the wing bars. The one bird's rump had a bit of red. I think it was an immature male and the others were females. Sue Paradisis, Peterborough
On November 8, I had 3 Evening Grosbeaks eating seeds with the chickadees. I bought very inexpensive feeders from the dollar store. They are green plastic trays hung by chains. The birds can fly in or perch on sides – even the woodpeckers.
This past spring and summer I had 3 pairs of Baltimore Orioles. I put grape jelly in an oriole feeder and my hummingbird feeders, the glass style with yellow ant block. I removed the yellow plastic and using sugar and water the orioles came to feed over and over again. When you remove yellow plastic ant block, all the birds join in with hummingbirds, woodpeckers and chickadees. As well my robin arrived this spring for the third year now. He comes to the deck rail and looks in the patio door for raisins. He just loves them! Esther Ross, Islandview Drive Bailieboro
I had removed all my oriole/hummingbird feeders in September after which I had not seen either of those birds around. The last week in October, we saw a male Baltimore oriole flying by.  I spotted it one day on our lilac tree so I made up some feed for him and put up the feeder where it always has been.  Within an hour, it had been discovered!  We bring the feeder in at dusk so the raccoons don't get it as they have in the past. As of November 7, it has been here 10 days at the feeder, probably well over 30x a day.  We love seeing it and I've enclosed a couple of pictures. It has crossed my mind however, whether I should be feeding it, as it should have left to go south for warmer temperatures and I would hate the thought of it dying.  Pat Edwards, Ennismore  N.B. I think it's fine to feed the bird, especially given the cold conditions. It may leave on its own or possibly try to stay all winter. This has happened in the past! Pat Edwards, Ennismore 
On November 7, three Trumpeter Swans flew over my house at 10:30 am west of causeway on #7 highway, Omemee. Gavin Hunter
On November 4, I had 8 Evening Grosbeaks show up in my yard. They didn't stay long as the platform feeders had been cleaned out by the earlier birds.

Sue Paradisis, Peterborough
Jack Lake 2018 Turtle Observations (Steve Kerr)

Thirty-three individuals reported turtle sightings from the Jack Lake area in 2018.  Ninety-one turtles, comprised of four different species.
Blanding's Turtle – 7
Midland Painted Turtle – 43
Northern Map Turtle – 6
Snapping Turtle – 34