Spring is an exciting time for nature enthusiasts
Peterborough Examiner  – April 14, 2023 – by Drew Monkman
            As we enjoy spring's arrival, I'd like to provide a taste of some of the wonderful events in nature to look forward to in the coming weeks. Before doing so, however, let's look back at how quickly temperatures in the Kawarthas are warming up. With the exception of March, all of the winter months saw mean temperatures that were much milder than average. December was 2.5 C warmer than average; January was 5.1 C warmer; and February was 2.9 C above normal. In fact, until this past March, every month going back to May 2022 was warmer than the 1971-2000 average. Global heating can be hard to perceive on a day-to-day basis but numbers such as these should remind us that it's happening right now in our own backyards.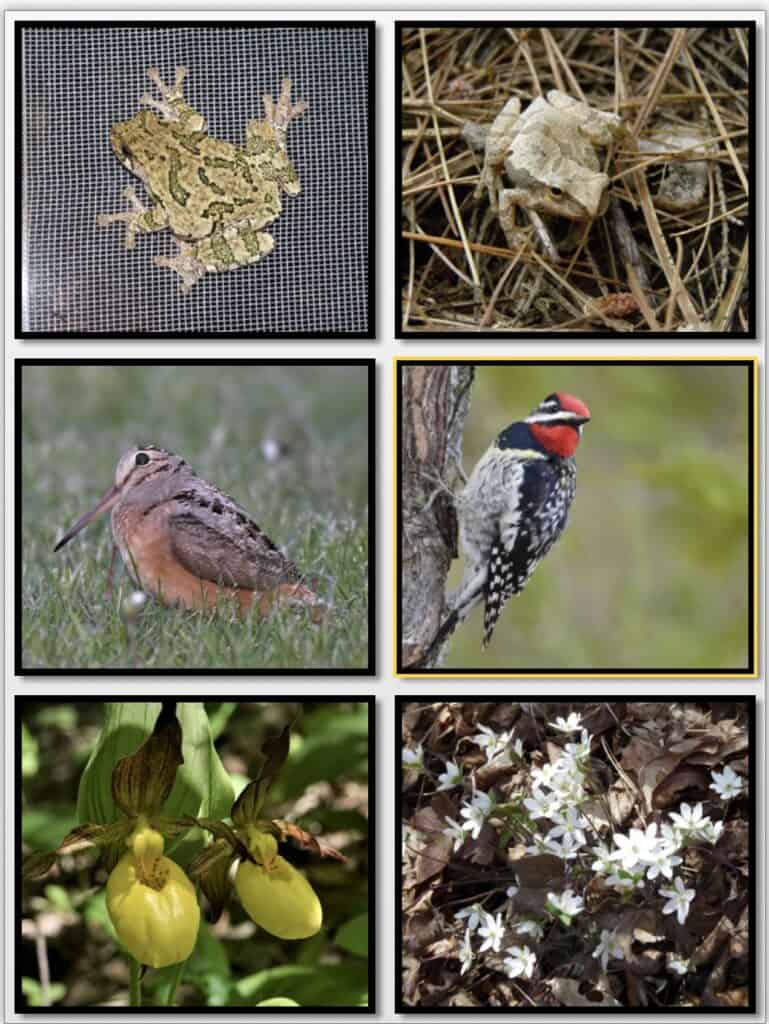 April
Local wetlands are awakening to the calls of spring peepers and both leopard and chorus frogs. Brush up on identifying the calls of frogs and toads at https://www.naturewatch.ca/frogwatch/
A large variety of waterfowl continue to migrate through the Kawarthas. Check out "recent visits" on the Peterborough page at ebird.org for the latest sightings and locations. Some recent hotspots include the north end of Lakefield Marsh and the Fothergill Isle Causeway on Pigeon Lake where 13 duck species were seen on April 8.
Silver maples are putting on quite a show right now. Dense clusters of flowers in tinges of red, yellow and green festoon the twigs.
The courtship flight of the American woodcock provides nightly entertainment in damp, open habitats such as the fields of the Trent University South Drumlin Nature Area. Starting just after sunset, listen for this plump shorebird's buzzy "peent" calls and the twittering of the wings as the male flies high overhead.
The muffled drumming of the ruffed grouse is one of April's most characteristic sounds.
April is a busy time for feeders. In a week or so, white-throated sparrows will start arriving. They are ground feeders and enjoy seeds such as white millet, safflower, and black-oil sunflower. Their thin, wavering whistle sounds like "Oh-sweet-Canada-Canada-Canada".
Hepaticas are usually the first woodland wildflowers to bloom in the spring. The flowers can be pink, white or bluish in colour. Look for them in forests and woodlots like Mark S. Burnham Provincial Park and the Kawartha Land Trust's Stoney Lake Trails near Viamede Resort.
Watch for early butterflies such as the mourning cloak, eastern comma and, by month's end, the dainty, all-blue spring azure.
April sees the return of our only migratory woodpecker – the yellow-bellied sapsucker. Listen for its distinctive, irregular drumming. Sapsuckers make rows of shallow, rectangular holes in trees from which they lick sap.
Earth Day is April 22. However, if you want to get an early start in helping the environment, consider taking part in the annual Ashburnham Memorial Park clean up on April 15 at 10 am. Meet at the basketball court at the corner of Armour Rd and Munroe Ave.
On Saturday, April 29, a community bio-blitz will be held in Jackson Park. See the climate crisis sidebar for details.
May
With many species nesting this month and next, keep your cat indoors. Huge numbers of baby birds fall prey to free-roaming cats every year.
The white blossoms of serviceberries, also known as Juneberries, are a common site along country roadsides.
Calling both day and night in long, monotone trills lasting up to 30 seconds, the American toad provides one of the most characteristic sounds of early May. Later in the month, gray treefrogs serenade us with their slow, bird-like vocalizations.
Make sure your nectar feeders are out and ready, because ruby-throated hummingbirds and Baltimore orioles start arriving by the second week of May. Orioles are also attracted to oranges which you can cut in half and secure to a pole.
Mid-May is the peak of songbird migration with the greatest numbers of warblers, vireos, thrushes, tanagers, and flycatchers arriving back or simply passing through. In the city, Jackson Park, Meadowvale Park, Beavermead Park, and the Trent University Nature Areas are always worth an early morning visit.
Deciduous woodlots offer up a profusion of spring ephemeral wildflowers in mid-May. Trilliums and trout lilies are among the most conspicuous. In the city, Mark S. Burnham Provincial Park and Trent's South Drumlin Trails are always worth a visit.
Migrating rose-breasted grosbeaks and even indigo buntings sometimes show up at sunflower feeders, so keep your feeders stocked up until month's end.
Wild columbine blooms late this month along roads and trails. The flowers, a beautiful blend of red and yellow, hang in a bell-like fashion.
June
Birdsong is at its loudest and most diverse, especially at dawn. 
The yellow dust covering everything from cars and decks to puddles and shorelines is pollen from the male flowers of conifers such as pine.
A signature scent of the June air comes courtesy of the wonderfully aromatic white blossoms of the black locust.
Painted turtles and snapping turtles are often seen along roadsides and other sandy locations where they lay their eggs. If you see a turtle on the road – and if safe to do so – help it get across. If you find an injured turtle, call the Ontario Turtle Conservation Centre immediately at 705-741-5000.
The first monarch butterflies usually appear in the Kawarthas in early June. According to the Monarch Watch Blog, the overwintering population in Mexico this year covered only 2.21 hectares, a 22% decrease from last year.
Orchids are in bloom. Among them are yellow, pink and showy lady's slippers.
Yellow warblers and American redstarts are common along rail-trails. A great spot to see them is the Rotary-Greenway Trail at Thomas A. Stewart Secondary School.
Giant silk moths are emerging from their cocoons and then flying off to look for mates. The most commonly seen species in our area is the Cecropia.
The Summer Solstice occurs on June 21. The sun will rise and set farther north than on any other day of the year.  
Butterfly-watching is usually at its most productive in early summer since the greatest number of species is flying at this time.  
CLIMATE CRISIS UPDATE
Hopeful News: The International Panel on Climate Change (IPCC) report from March 20 concludes with hopeful news once you read past the frightening headlines. It states that drastically reducing fossil fuel consumption while scaling up renewable energy and energy efficiency is the quickest but also the most affordable path to the rapid, deep emission reductions needed to secure a liveable future for our children and grandchildren. Read the full story at https://tinyurl.com/y2a4bfkc
Carbon Dioxide: Atmospheric CO2 levels for the week ending April 8 reached an all-time weekly high. Readings registered 422.60 parts per million (ppm) compared to 420.29 ppm one year ago. In 1989, CO2 levels exceeded the 350 ppm threshold generally considered safe for the climate. In the 1980's, CO2 concentration was increasing at about 1.6 ppm per year, whereas in the 2010 decade it increased at about 2.4 ppm per year. To see an amazing animation of CO2 levels covering the last 800,000 years, go to https://tinyurl.com/2p8fsvsd
Upcoming events: On April 29, the City of Peterborough and the Peterborough Field Naturalists (PFN) are hosting a community bio-blitz to record the diversity and abundance of wildlife in Jackson Park. A bio-blitz is a communal citizen-science effort to document as many species as possible within a designated location and time period. The event runs from 9 am to 3 pm. Meet near the pond and gazebo bridge to check out the resources and connect with a PFN-led park tour. The iNaturalist app will be used to record species sightings. For more details, go to https://tinyurl.com/426w8kv9