I'm sending along photos of the two Pine Grosbeaks that showed up at my feeder in late December. I called them "Heebie" and "Jeebie"! One time, Jeebie almost landed on my head, but she decided to pull up at the last second; I could feel her wings. She also eventually ate out of my hand! Sally Kenerson, North Kawartha Township
On March 6, I came across several small flocks of Horned Larks at the junction of County Road 2 and Scriven Line. Carl Welbourn, Kawartha Camera Club
N.B. Horned Larks are first migrants to return to the Kawarthas from the U.S. in late winter. D.M.
Today, March 6, at about 3:00 pm, we had a Barred Owl come to our bird feeder to perch and stay for quite awhile. We live on Highway 28 towards Young's Point, between the the 4th and 5th concessions.
We regularly have a pair of cardinals, and over the past couple of week, 26 Wild Turkeys around our bird feeder – our usual yearly visitors! Margaret and Ross Henning
On my morning walk on March 6, I stopped to look over the bridge where Jackson Creek goes under Aylmer street, just south of Spokes and Pedals, the bike store. I was able to watch a small mammal for about 15 minutes that I am certain was an American Mink. He saw me and clamoured up the bank to within a couple of feet of me. He swam/hopped across the steam several times before disappearing and then reappearing from a pile of debris on the creek bank. His tail was not as long as his body, front feet didn't seem to be webbed ( I thought Otter, but it didn't have the whiskery cheeks) and, he was chocolate brown in colour. Ross Jamieson
N.B. Mink are surprisingly common these days. They are often seen along the shoreline of Little Lake in spring, summer, and fall. Maybe they go up the creek to feed when the lake freezes?
American Minks – photos by Nancy Cafik (left) and Tim Corner
I had a great look at a male Red-bellied Woodpecker at about 10 am this morning, March 7. It stayed for 1-2 minutes at the suet feeder, and flew straight to it so it must be coming fairly regularly – it knew where to go!
Jim Cashmore, Claudette Court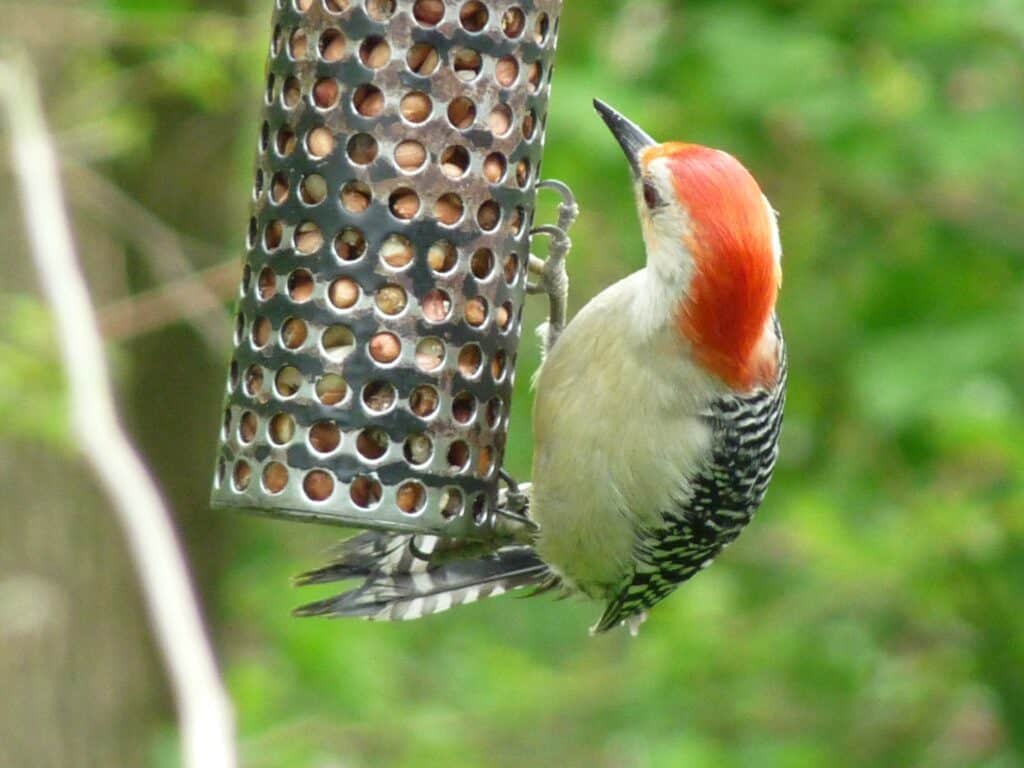 We have had visits recently from Bohemian and Cedar Waxwings here over the winter. The photos clearly show the many differences between the two species. Maris Lubbock
It looks like this Barred Owl has adopted our former neighbour on Killoran Rd, right next door to where we used to live. March 13, 2021. Anne Morawetz and Don Bocking
Sandhill Cranes on Centre Road near the Douro 3rd Line on March 27.
Carl Welbourn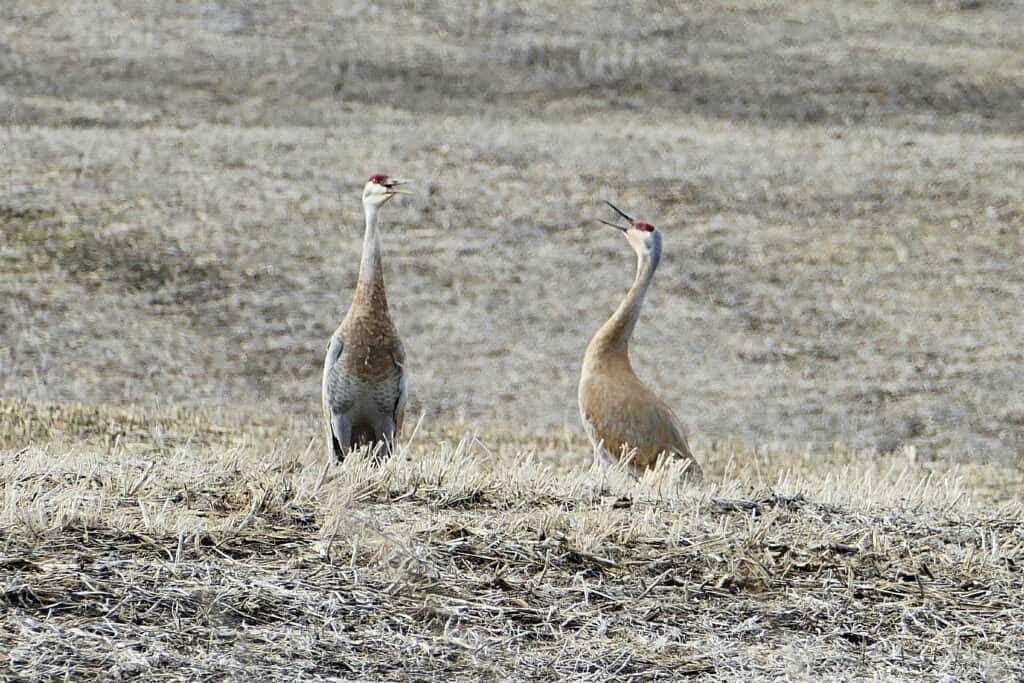 I had these Compton Tortoiseshells in my garage on March 23. Earlier the same day, I saw my first Mourning Cloak of the year. Michael Gillespie, Keene
On March 18, we saw 4 American Black Ducks on the Otonabee River at the Crawford Drive boat ramp. They were swimming near a pair of mallards so it made the comparisons quite interesting. Marilyn Cassidy