At noon, on January 31, I came across a Northern Hawk-owl at the horse farm just north of Selwyn on the Buckhorn Road (County Road 23). David Beaucage Johnson, Curve Lake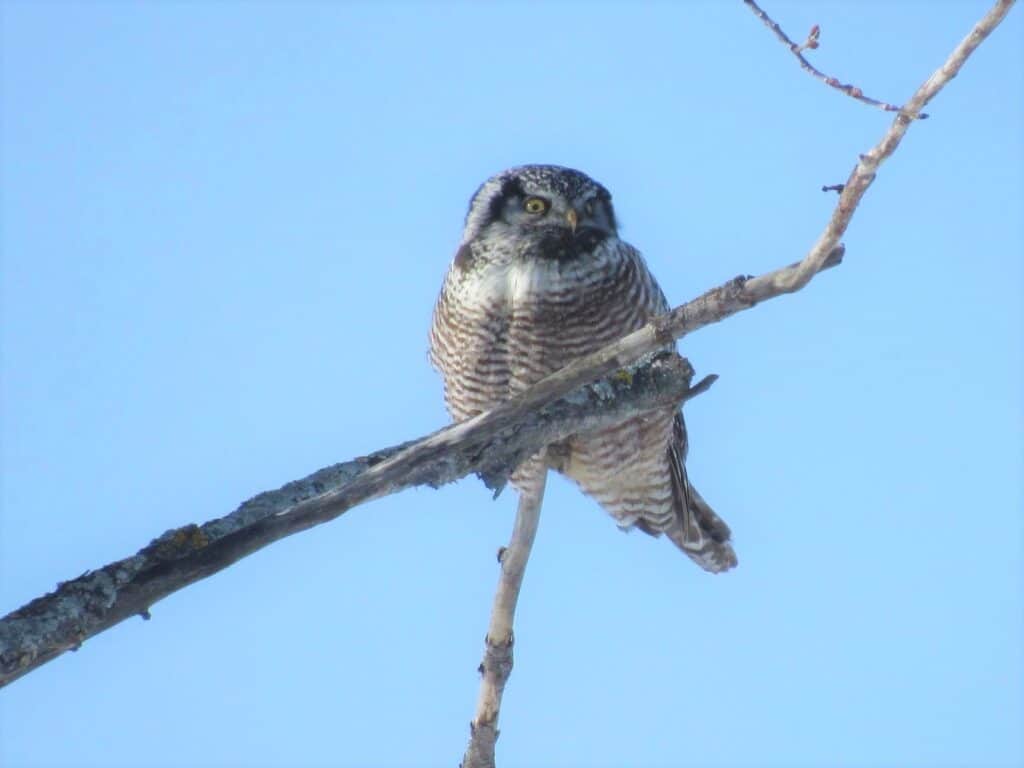 On January 30, I came across this dead Northern Saw-whet Owl. By the marks in the snow, it flew down to grab a mouse or shrew as there was an entrance hole in the snow. However, it looks like the owl failed to notice a chain link fence one foot beyond it. It looked like it thrashed around for just a little bit. Maybe a broken neck? Steve Kerr, Glenmead Rd, Peterborough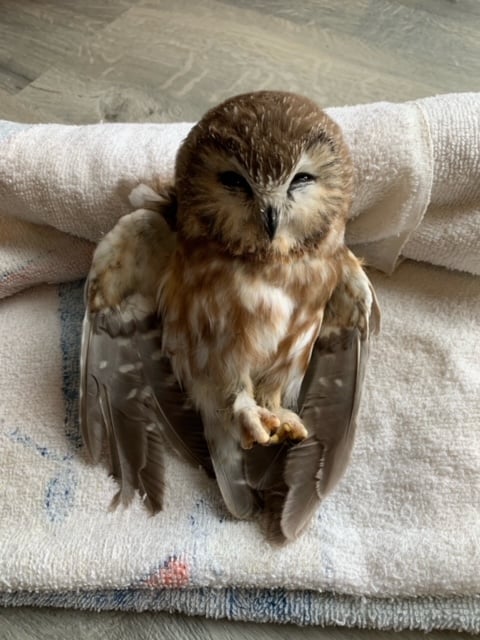 N.B. Despite a lot of searching over two days, no one was able to relocate this rare owl.
I saw this Barred Owl last Saturday on the Young's Point rd, at the 10th Line at around 8:30 am on January 30th. Jeff Keller, Bridgenorth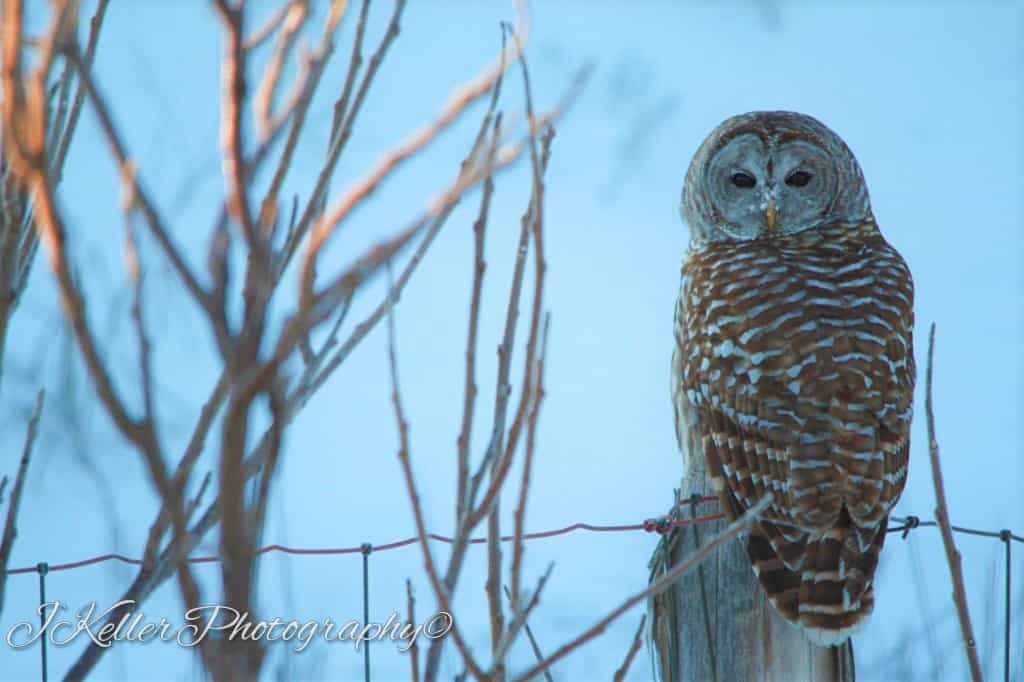 I was out for a couple of hours on the afternoon of January 3 and saw a Barred Owl in the Cavan Swamp plus a Snowy Owl that has been at the Lindsay turn on Chemong Road for a couple of days. Carl Welbourn, Kawartha Camera Club
Note: This is the third dead saw-whet that I've been alerted about this winter (as of late February). D.M.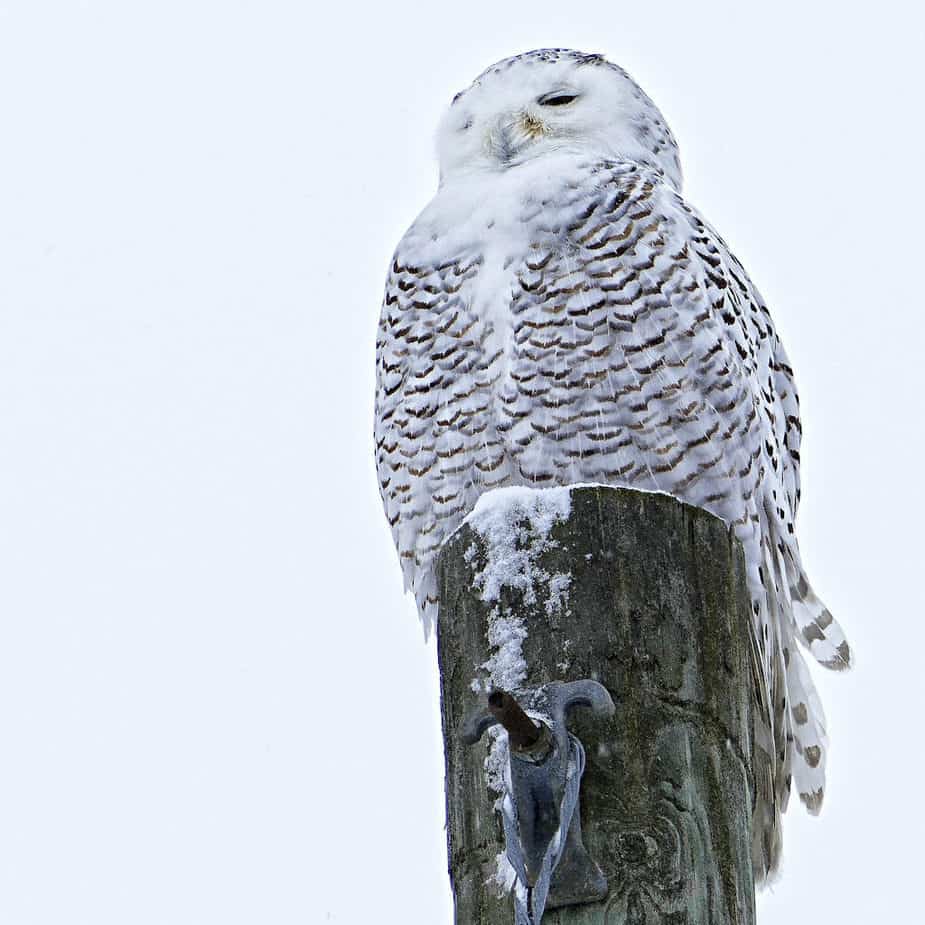 I have attached some pics of the remains of a tree on the edge of one of the Red Trail at Viamede (Stoney Lake Trails). What is left is about 15′ high. I do keep our peanut feeder and suet block full, but I guess this Pileated Woodpecker that did this needed to vary its diet! I am sending also, a picture that I took on December 31 of two Bald Eagles and two Common Ravens feeding on what's probably a deer carcass. I was at our marina in Northey's Bay, and the birds were at least 3/4 of a mile out into the bigger part of Stoney Lake. Dennis Johnson, Northey's Bay
On January 4, we had hundreds of Common Redpolls at our feeder on Stoney Lake. I set up another nyger feeder! Bet Curry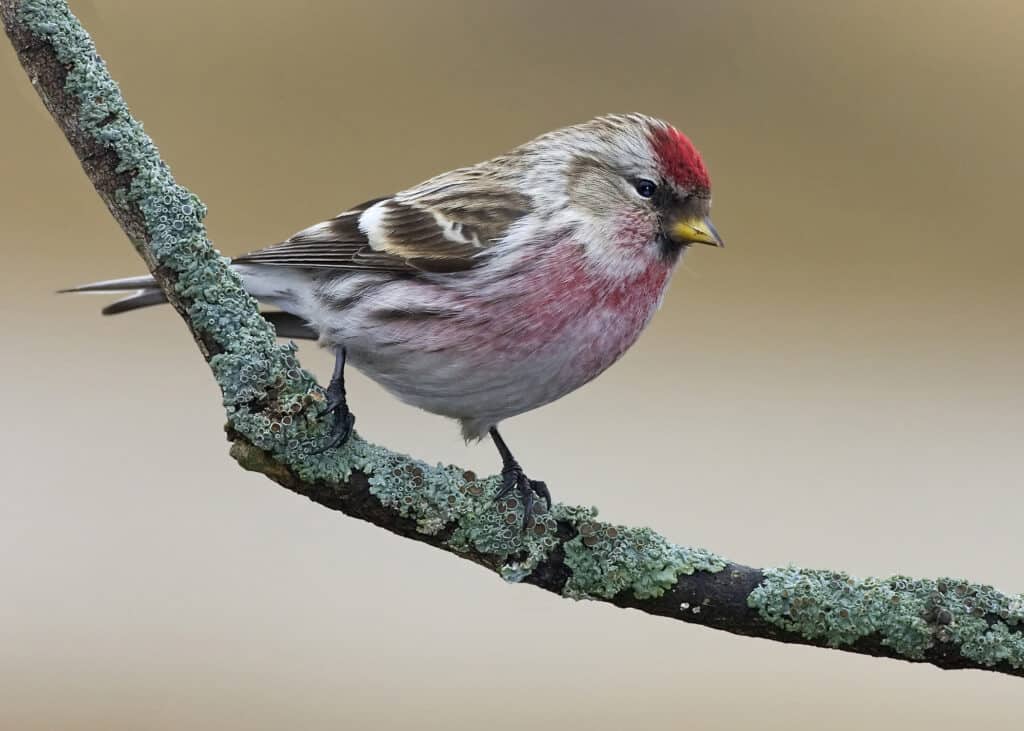 On January 5, we came across this immature female Snowy Owl on the Centre Line of Selwyn near the Seventh Line. On the morning of January 6, we had a dozen Common Redpolls at our feeder on Algonquin Boulevard. Mike and Sonja Barker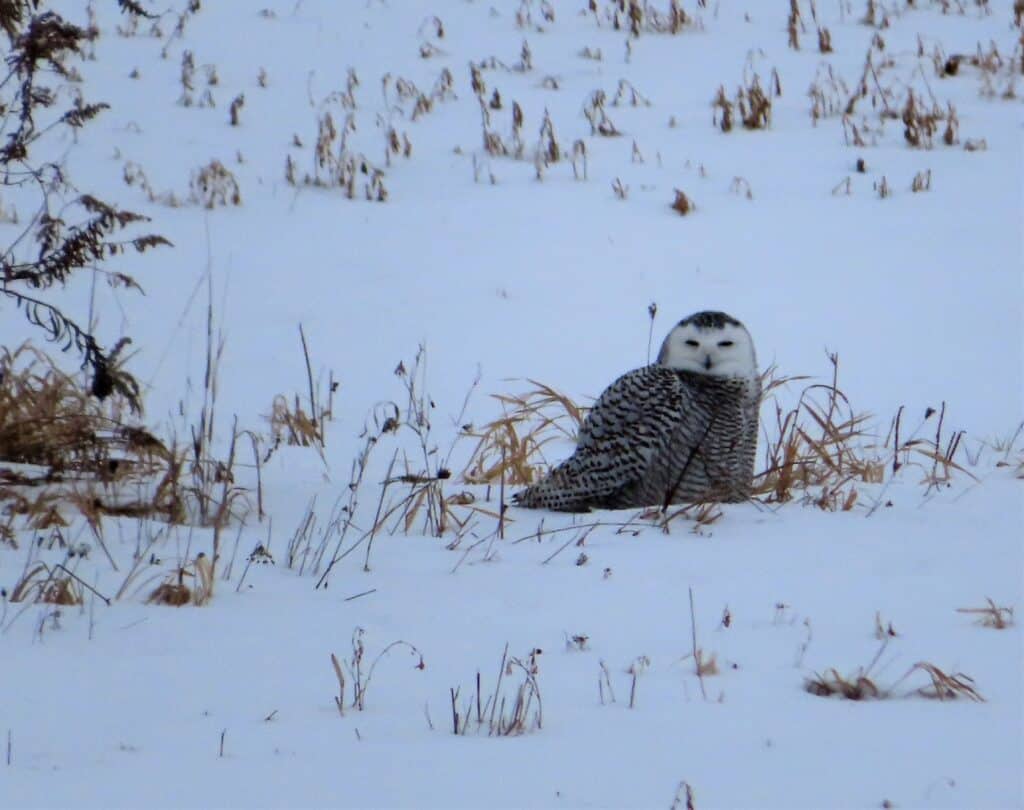 On January 5, I drove down to Cobourg Harbour where I saw 5 White-fronted Geese, 1 Snowy Owl, 1 Snow Goose, a male and female Long-tailed Duck and several Common Redpolls. Carl Welbourn, Kawartha Camera Club
We have had 2-3 pairs of Red-bellied Woodpeckers at our feeders for 6 years. This winter, we have 14 Northern Cardinals coming. Ardie Jacob, Donwood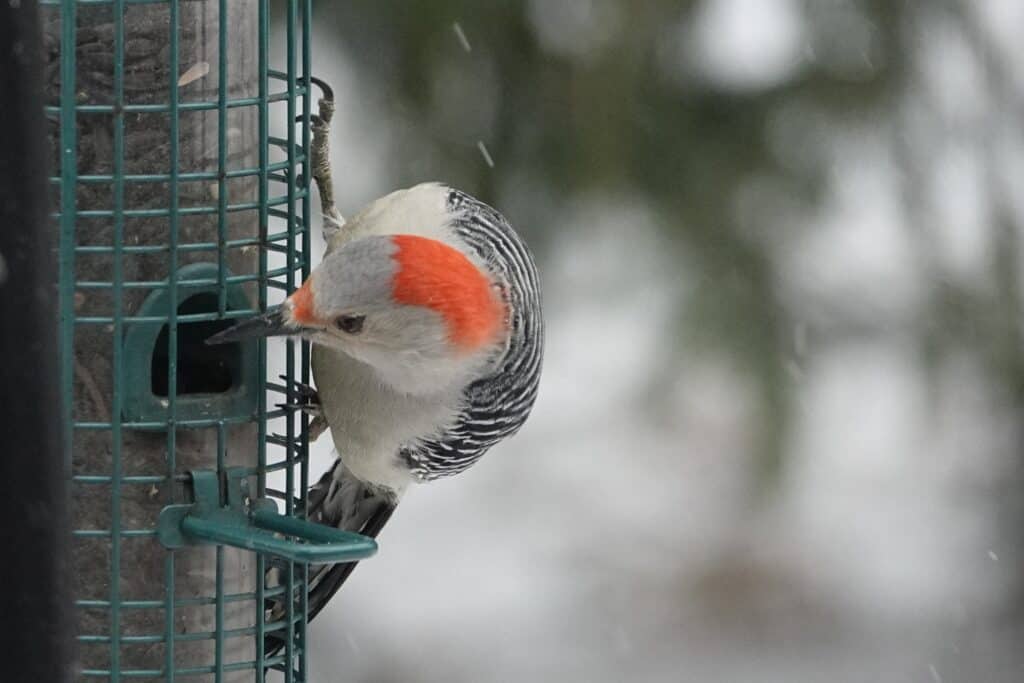 Female Red-bellied Woodpecker – Drew Monkman
This month we've been enjoying the company of 15 Trumpeter Swans, including a few juveniles. But this morning was the bonus as you can see in the video. The usual chickadees, nuthatches, jays, and redpolls are coming to our feeders, as well. We are on Crowe lake at Marmora. Bob and Maxine Prentice
I took these pictures last summer in Lake Temagami. I was in a shallow inlet. These "blobs" were about 12 to 18 inches long at least, maybe more. I had never seen anything like them before. I thought they might be eggs. Any ideas? Karin Laine, Peterborough
These are Bryozoa. They are commonly known as moss animals but are actually aquatic invertebrates, measuring about 0.5 millimetres in length. They form sedentary colonies and are common in the Kawartha Lakes, too. They are filter feeders that sieve food particles out of the water. Drew Monkman
Bryozoa colonies – Karin Laine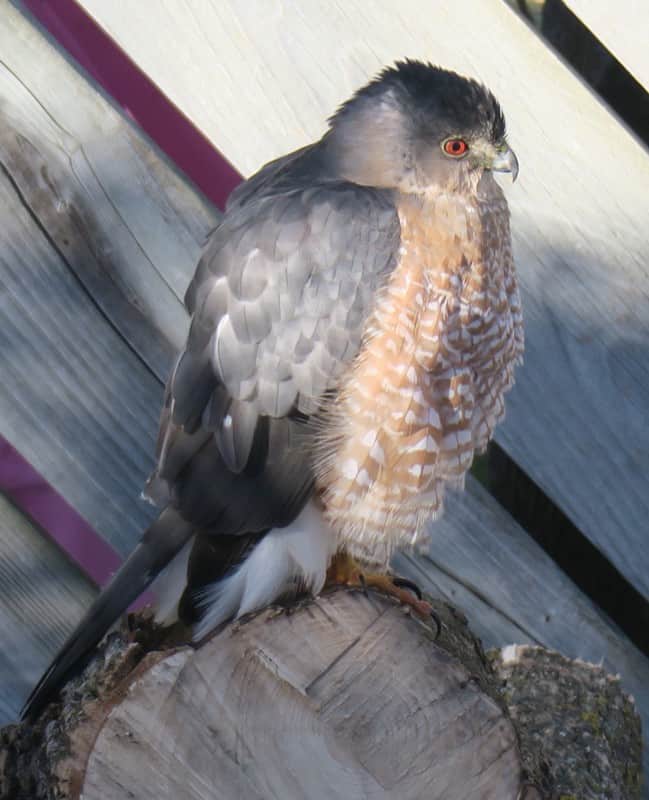 On January 14 and 15 we had a chipmunk on our front step. It came out from under the deck. Usually we would not see chipmunks until spring. Given the very mild weather, I was wondering it 'woke up' and thought it was time to go get something to eat! Seems a little early. Jane Bremner
Note: Chipmunks are not true hibernators and regularly wake up during the winter to eat. They have "hoards" (food pantries) in their underground dens. Sometimes they actually exit from the den and check things out! D.M.

We found this Gray Treefrog on January 16 while walking at an old Windover homestead near Flynn's Turn on County Road 507. I was able to find a broken off stump with some leaves around it and built it a shelter. Given the mild temperature, it was not fully frozen. Marie Windover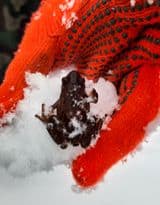 As luck would have it I sighted this Barred Owl on January 20, shortly after leaving the Kawartha Nordic Ski Club north of Burleigh Falls. Unfortunately I only had my cell phone with me. Brian MacKenzie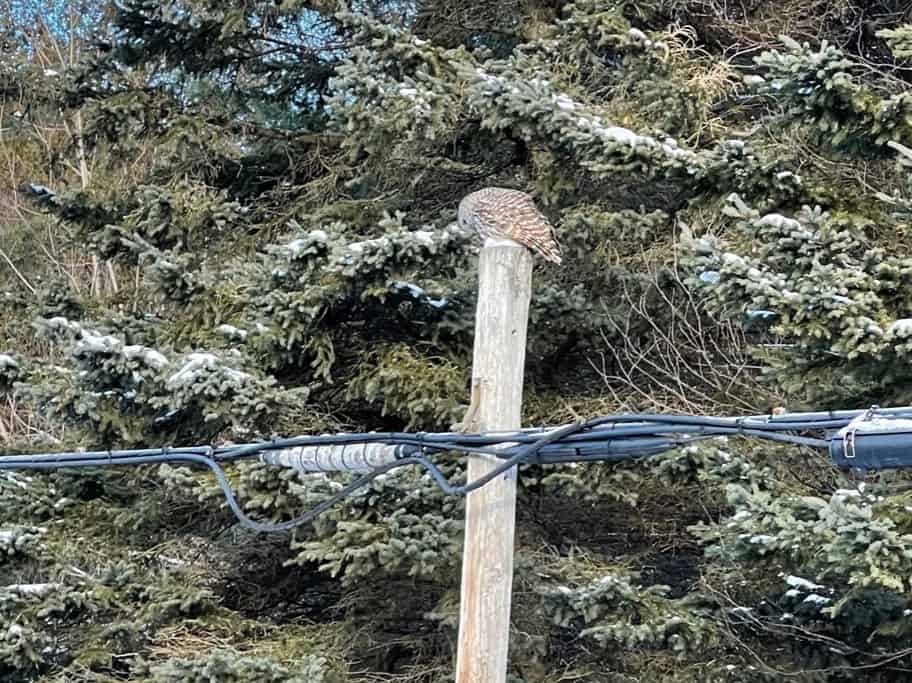 On the morning of January 21, I watched a Cooper's Hawk pluck the feathers off a Mourning Dove that it caught near our feeder. It just sat on the dove for a while, perhaps trying to figure out how to carry it away. Then, it took off , but it couldn't get any height. So, it just flew a 100 yards into the orchard and landed. Well, that was my early morning excitement! Michael Gillespie, David Fife Line, Keene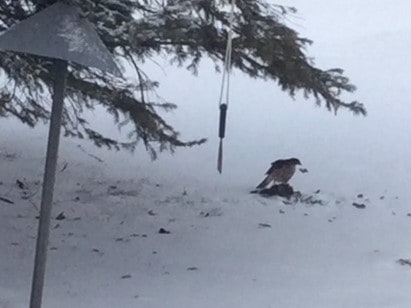 On January 23, we had a Cooper's Hawk in a tall cedar tree in our backyard. It stayed for about 30 minutes. This is the second time the hawk has visited us, but this time I had my binoculars. It had a white breast, faint reddish stripes across the chest, and a charcoal hood and back feathers with white spots. It also sported a short, sharp, curved beak and yellow talons. Antoinette & Art Van Veen, Wildlark Drive
While walking the dog this morning, January 24, I heard a Northern Cardinal singing in the big maple trees behind our place. First time this year. Spring! Rob Moos, Maple Crescent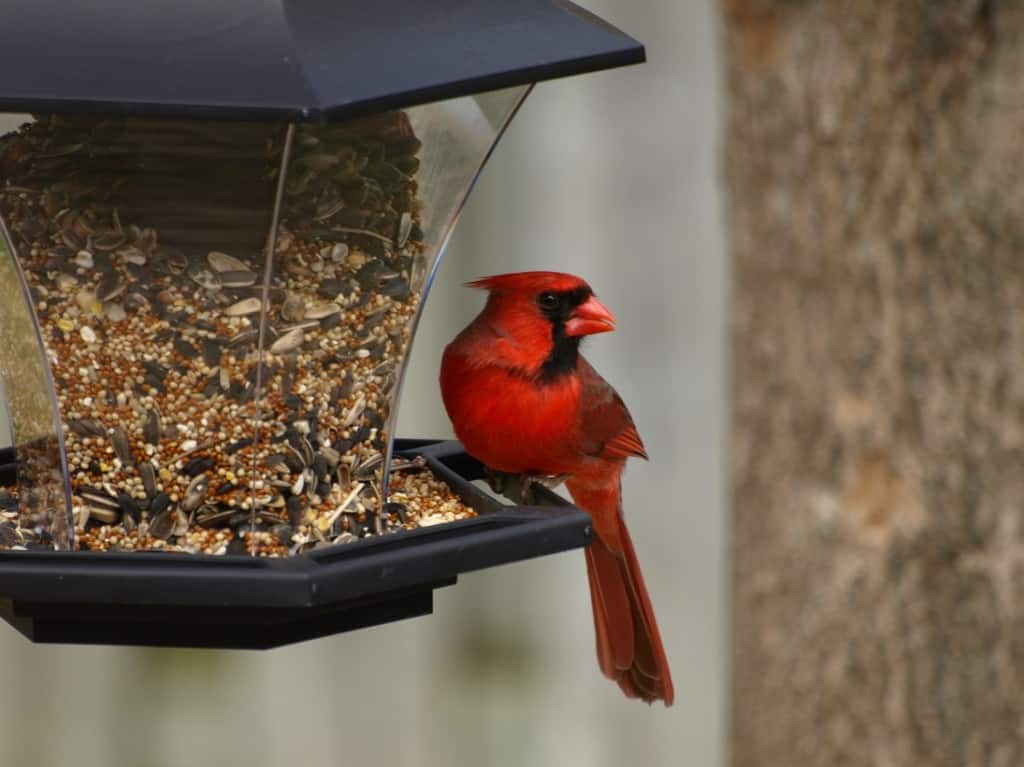 We're getting big numbers of Common Redpolls at our feeders this month! Bet Curry, Stoney Lake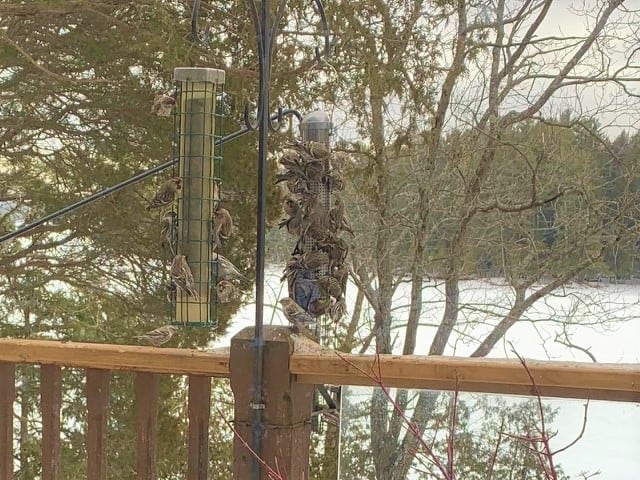 I was thrilled to end the month by finding a Northern Hawk-owl this morning, January 31. It was in Selwyn Township. Carl Welbourn